As the Internet continues to expand and more and more people use it for their daily activities, the need for shorter links to be usable on smaller devices will become necessary.
A shortened link may seem like a minor deal now, but when using a mobile device with limited screen space, having an extra few characters of width to display more content will become more critical than ever.
A study predicted that the market for URL shorteners would expand at a compound annual growth rate of 19.7% between 2022 and 2031.
URL shorteners will become much more popular in the coming years, so make sure you're using one we like. 
This guide will explain the basics of using a URL shortener and introduce you to some of the best options available today.
What Is a URL Shortener?
URL shortening is a technique to make URLs more convenient to read and write, and it also helps to reduce the cost of mobile data transmission when sharing links on social media. Shortened URLs can be used as hashtags or embedded in other social media posts.
The basic idea behind a URL shortener is that if you want to share an article on your blog with a friend or colleague. If they're going to copy and paste only some URLs, you can create a shortened version of the link that will redirect them directly to the article without them having to click through multiple pages.
There are two main types of URL shorteners:
Free
Free services allow you to shorten URLs without limiting how much traffic they can receive on their platform.
Premium
Premium services offer advanced features like analytics, statistics, customizable domains, etc. These services also limit how much traffic they can receive on their platform, but these limits are higher than those offered by free services.

Why Do Businesses Need URL Shorteners?
Businesses need to use URL shorteners because it makes links easier to share on social media. If you have ever tried to post a link on Facebook or Twitter, your link automatically shortened. It allows for easier sharing and makes it look more appealing.
It also saves space because whenever you share a connection with someone, they don't have to copy and paste it into their browser.
Here are some other reasons to use a URL shortener include:
Better User Experience
When it comes to URLs, brevity is indeed the soul of wit. The concise nature of a shortened link enhances its memorability, making it easier for users to input and recall when needed.
In turn, facilitates a smoother and more efficient browsing experience, allowing visitors to quickly locate the content they seek without any unnecessary complications.
Make Your Links Unique
The main reason for using them is that they make your links unique. Use these tools to eliminate duplicate content issues on your site and boost its ranking in search engines. You can also use them to create branded links for sharing on social media or other marketing campaigns.
Easy To Share Links
A URL shortener makes it easy to share your links with others on social media (Facebook, Twitter, Instagram) or via email. You don't have to worry about spelling errors or ensuring your link fits within the 140-character limit on Twitter or Instagram.
Also, since these services make links much shorter, they're easier to remember and type out. This is especially useful if you use a mobile device with a smaller keyboard than a laptop or desktop computer.
Decreases Risk Of Malware Infections
The Internet is full of spammy websites that trick users into clicking on links containing malware. Using a URL shortener, you can be sure that any site you visit isn't infected with viruses or other malicious software because all shortened URLs start as clean sites before redirecting visitors elsewhere.

Reference
Keeps Your Data Private
When someone views your profile page, the URLs of the websites you visited previously are hidden behind a link with a random string of characters. It makes it possible for anyone else to access your browsing history if they can access your computer!
Mobile Friendly Links
The number one reason businesses need to shorten their URLs is that Google prefers shorter ones. When you enter a long URL into Google, it will automatically try to shorten it for you.
It makes your link much easier to read on mobile devices, which is important because most people currently access the Internet on their phones.
Track Clicks On Your Links
Some URL shorteners let you see how many people have clicked through to your content, which can help you decide whether or not the content is worth continuing with. For example, if an article has lots of clicks but no shares, it might be worth rewriting it or rethinking its format so that it generates more interest.
SEO-Friendly links
If you ever want free advertising on social media or an email newsletter, you must ensure that your link is shareable by as many people as possible. A link can be hard for someone else to share because it needs to be shorter and more complicated at first glance. 

Key Features to Consider When Choosing the Best URL Shortener
To ensure that your readers won't have problems accessing your content, you can use one of the many URL shorteners available on the Internet today.
And if you are looking for the best URL shorteners, then here are a few things that you should look out for:
No Restrictions
The best URL shorteners don't restrict where you can use them or how many links you can shorten at once.
Clean Interface
A shortener should be easy, so ensure it has a clean layout and simple instructions.
Multiple Links
You should be able to shorten multiple links simultaneously, so they can all be shortened in one go instead of having to do them individually.
Automatic Redirects
A good URL shortener should automatically redirect visitors from long URLs to their shorter counterparts.
Speed
A good URL shortener will be fast and easy to use. Shortening or expanding your links should take just a short time.
Security
Protecting your personal information is important. Ensure that you can only access your shortened URLs when necessary. You should utilize URL providers that include end-to-end encryption (E2EE) or other security measures, such as private keys or password protection (such as when someone sends you a link via email).
Keyword Tracking
To see how many people click your shortened URLs, ensure the service offers keyword tracking and other analytics tools so you can see how many people clicked on each link and where they came from.
Payment Options
Some URL shortening services will let you pay with a credit card or PayPal, but others may only accept Bitcoin or other cryptocurrencies. To avoid paying with cryptocurrency, look for a service offering more traditional payment options.
Analytics
You want a platform that gives you insight into where people click from and what they do on your website. A good platform will also let you see which posts have been clicked on most often, helping you optimize future campaigns accordingly.
Custom Redirect Option
This can be very useful if you want to redirect your shortened links to another URL. For example, this feature will be useful if you share a link on Twitter or Facebook and want it to redirect back somewhere else (like your homepage). Most URL shorteners don't offer this feature, but some do.
The Best 10 URL Shorteners for Enhanced Engagement and Tracking in 2023
As the digital age continues to evolve, short URLs are essential to building brand awareness and enhancing online visibility. The top 10 URL shorteners of 2023 are listed below for your convenience.
Replug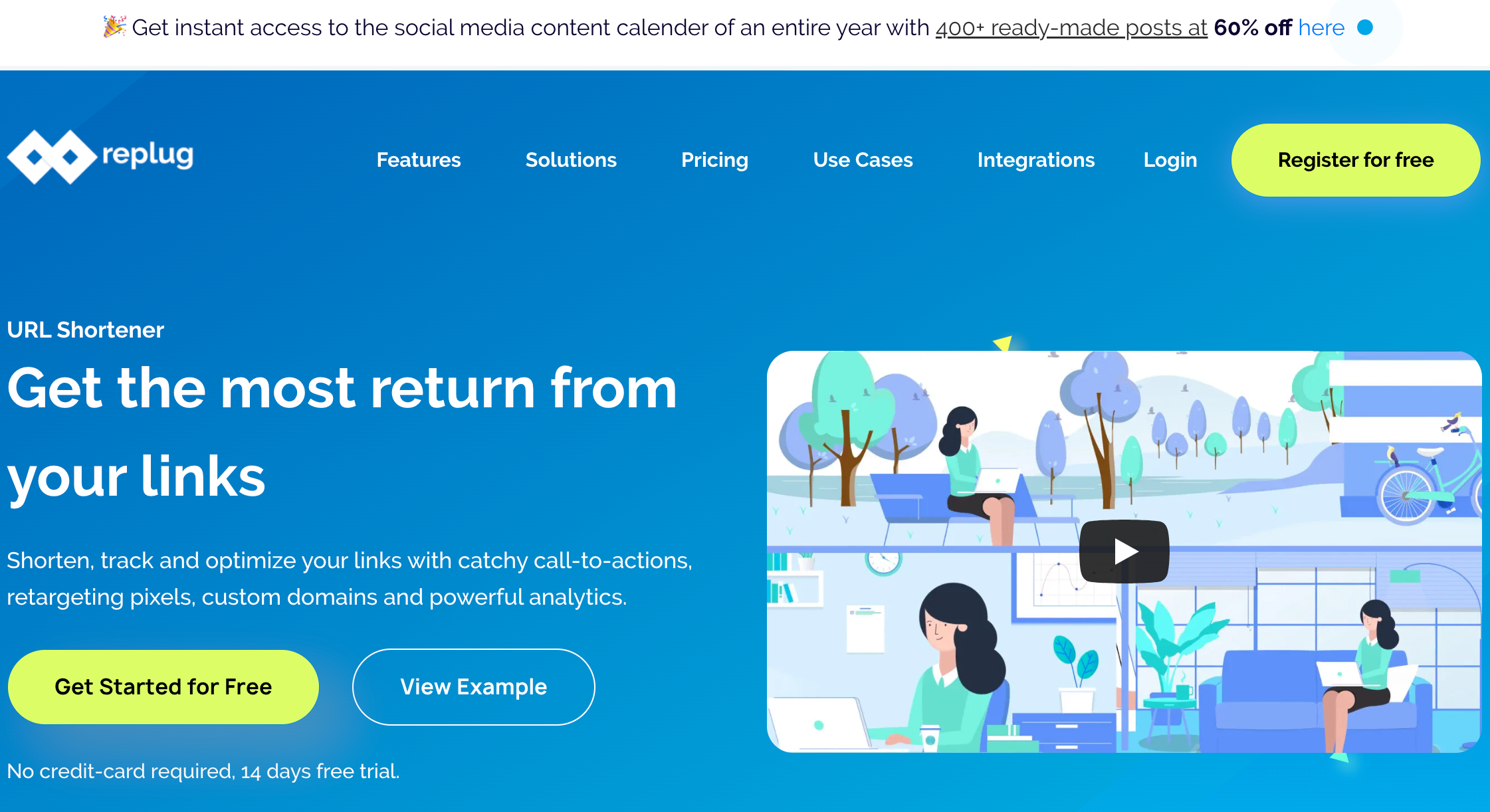 Replug is a great choice if you're looking for an easy-to-use yet powerful URL shortener. It offers all of the basics, including analytics and custom domains, but it also has unique features like link tracking and email notifications when someone uses your shortened link.
It also supports custom branding on shortened links, making them look like your website or blog.
In short, Replug is your one-stop solution for comprehensive brand marketing. Plus, the customized URL links allow you to easily track and generate sales more efficiently.
You can also use Replug.io to perfect your brand identity by including public reviews, product videos, and pricing options in your social media profiles. It means your audience will have access to every information they need before making a purchase decision – so there's no more hesitation!
But it doesn't stop there – Replug lets you create highly tailored experiences beyond traditional link-in bio tools. You can curate the perfect link block for any situation, customize titles and icons, rearrange blocks according to preference, add descriptions and meta tags, and target pixels for added control. All this power comes packaged in an easy-to-use and intuitive user interface – so what are you waiting for? 
Invest in Replug today and watch as your brand grows stronger than ever!
Top Features:
Bitly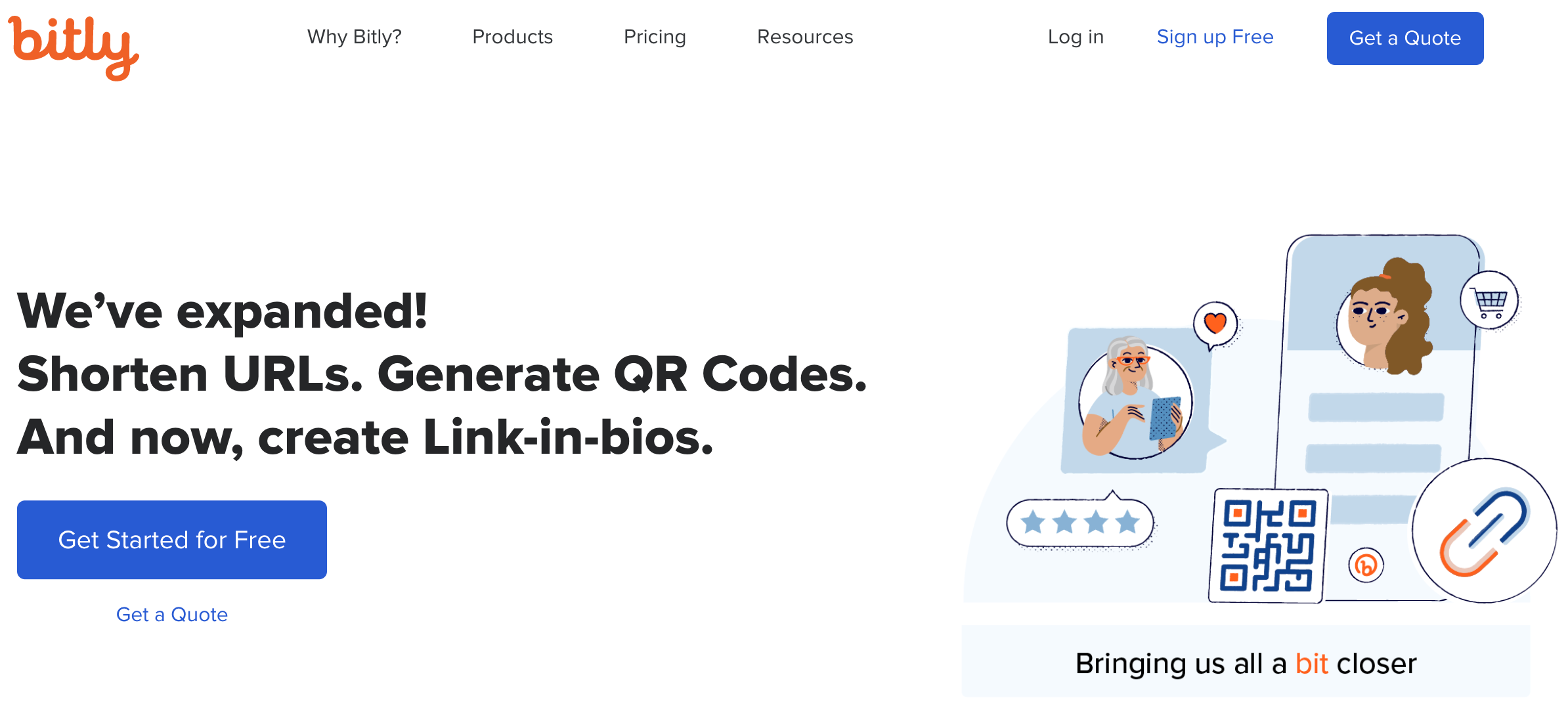 URL shorteners like Bitly are popular worldwide. It has been around since 2008 and has more than 5.7 million active users. It's a tool that lets you create unique links for your content, then track how well it does on social media and other platforms. The platform has been around for years, and it's still one of the best out there.
Bitly supports several languages, including English, Spanish, French, German, Italian, and Portuguese. Bitly also supports other languages like Arabic and Russian but only for links shared on social media platforms like Facebook or Twitter.
Price: Bitly's pricing tiers are designed to give consumers and businesses various choices. The basic plan costs as little as $8 per month and provides users access to fundamental link management, analytics, and sharing features.
For an additional fee, businesses can upgrade to one of Billy's premium options that provide extra services like custom domains and link tracking.
It has several features that make it stand out from the crowd, including:
Any website or mobile app's capacity to shorten URLs.The ability to shorten links from any website or mobile app.

A comprehensive analytics dashboard that shows how many clicks you get from each link and where they came from.

The option to set up custom tracking domains so you can track individual links more accurately.
Sniply.io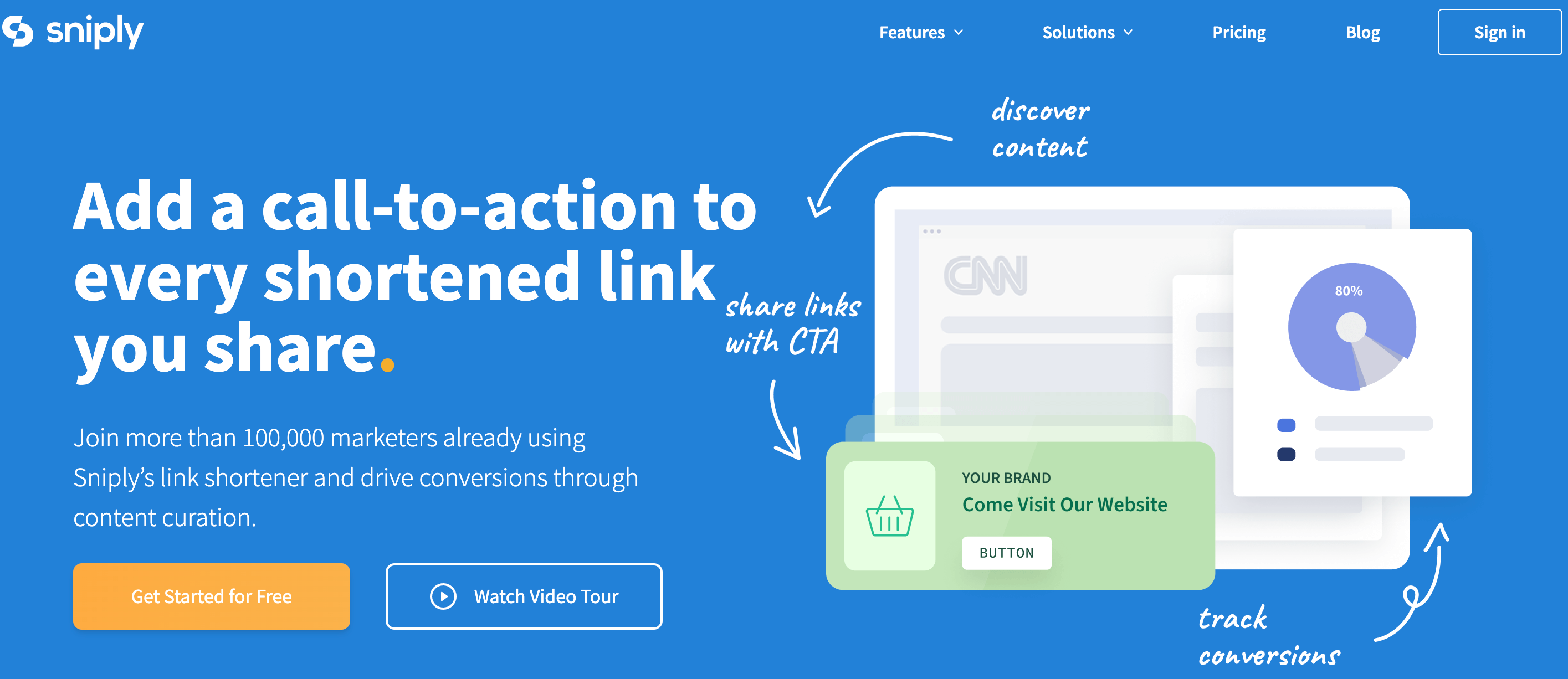 Sniply's main feature is adding a call-to-action (CTA) at the bottom of your link. This CTA can be used to promote your content or drive traffic back to your website.
For example, if you're promoting an article about how to make money blogging, you could add a CTA at the bottom that encourages people to sign up for your beginner's guide. You can customize your CTA by changing its color, text, and size.
Twitter and Facebook users can also use Sniply to share links. Click the "Share" button in the top right corner of any page (not just Sniply links) and choose which service you'd like to use. Sniply offers suggestions for hashtags and other relevant content from users who've shared similar URLs.
Price: It is one of the most affordable link shorteners at $29/month ($25/month billed annually).
It has a lot of features, including:
Create short links from the URL of any website (without requiring any technical knowledge).

Track clicks, views, shares, and conversions on your links.

Get detailed statistics on all your tracked campaigns.

Text-based CTAs like "Learn More" and "Sign Up"

Image-based CTAs

Videos and GIFs
TinyURL

TinyURL is one of the most popular URL shorteners on the web. You can create tiny URLs for your links and share them with your friends or family. 
It is a free URL shortener that is useful for anyone who wants to save time typing out long links in their messages or emails. You can also use TinyURL as a bookmarking service to find your favorite sites later.
The best thing about TinyURL is that it's free to use, and there are no advertisements. The only downside is that it does have some limitations on how many times you can shorten a link, but this should be fine for most users.
Price: TinyURL prices range from free to $9 per month for the PRO version.
TinyURL features:
Easily create tiny URLs for Twitter, Facebook, and more.

Free URL shortening with no ads or popups

Create custom links from any website with just one click.

Copy and paste your shortened URLs anywhere.
Ow.ly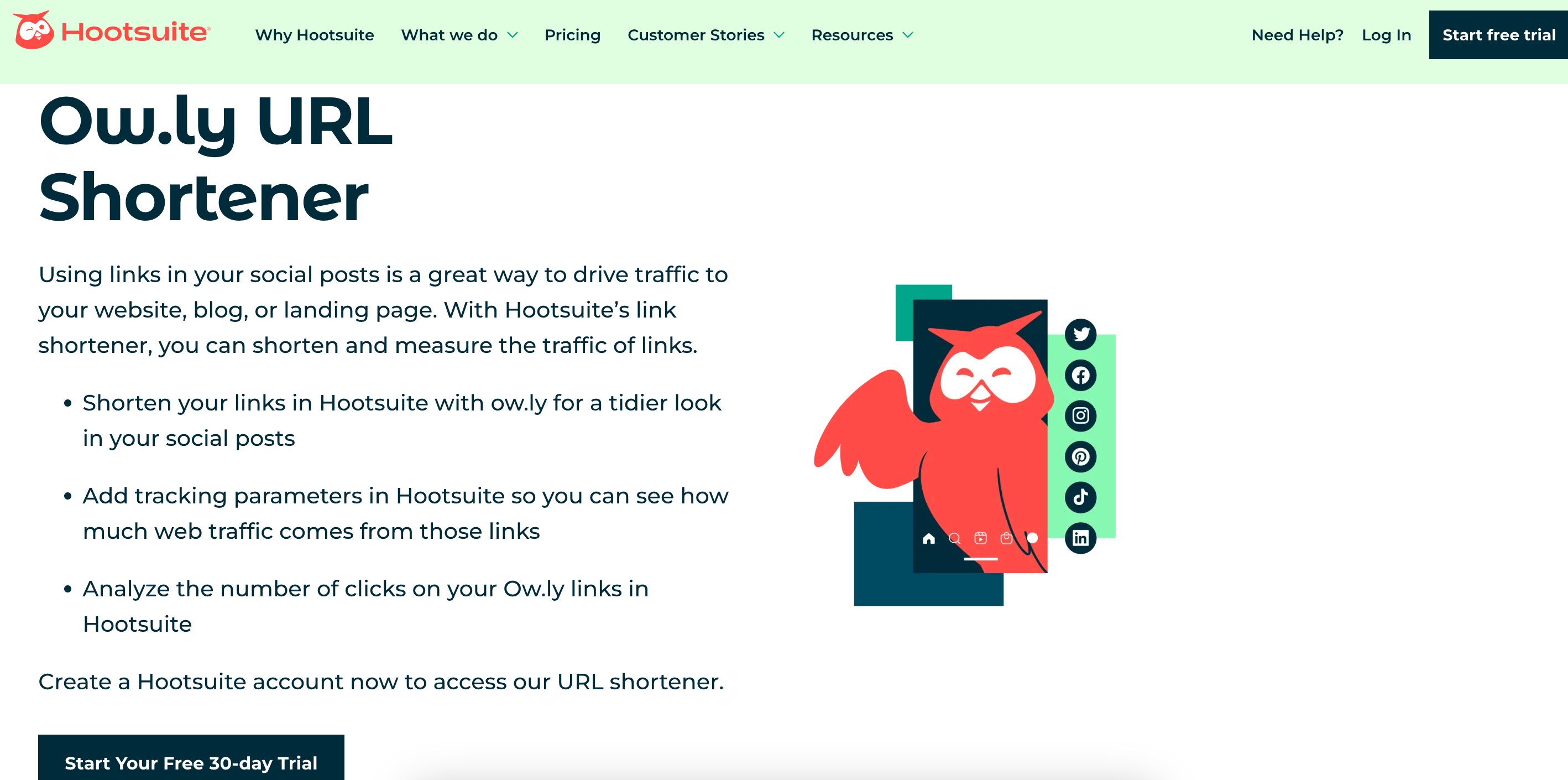 Ow.ly is a URL shortener that can be used for free. It has a great analytics tool, which allows you to see how many times your link has been clicked and what it looks like. You can easily track the popularity of your links this way.
Also, you can use this tool to see how popular your content is and find out who has shared your content on which social media platform.
All links shortened by Owly are private and secure, meaning no one can see what you have shortened through this tool. This tool is also compatible with all major browsers and devices, so you won't have to worry about compatibility issues. It is also compatible with mobile devices such as iPhones, iPads, Android phones, and tablets.
Price: Ow.ly offers a variety of URL-shortening services to simplify your links. The basic $19 monthly plan includes the most common features, like shortening URLs and sharing them on social media sites.
The professional package is $49 per month and includes advanced analytics, custom domains, and others. The enterprise version costs $99 per month and comes with all the features that Ow.ly has to offer.
Features:
Create short links in just one click

Track the number of clicks your links receive

Protect your links with password protection

Save your links for later
T2M 

T2M is a free URL shortener for your links. It's easy to use and has a clean interface. T2M also has an analytics page where you can check how many people clicked on your link, how many times they opened it, and how much time they spent on it.
Price: With plans starting at $5 per month, T2M is reasonably priced. The basic subscription includes those above, while the advanced plan offers additional features, including comprehensive link analytics. These programs make the best plan for your requirements and financial situation simple.
T2M features:
Shorten any URL with your custom domains!

Shorten or redirect any page or post on the web!

Use our built-in statistics tracking to see how many clicks your links get!

Set up your custom-tracking keywords to see where people are coming from and their actions on your shared site!
Rebrandly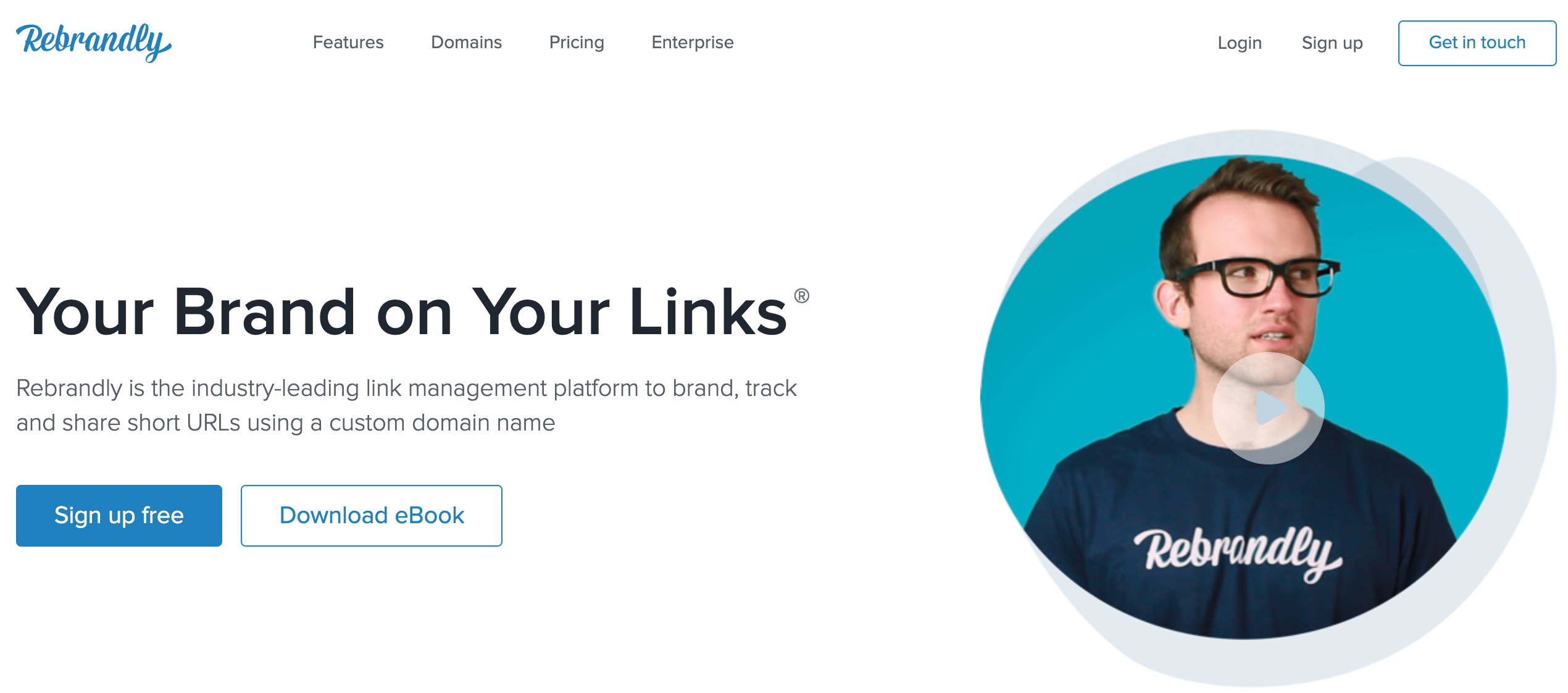 Rebrandly is a great option for anyone looking to shorten their links. The service allows you to create a custom URL shortener, which you can use in place of the standard Rebrandly link. It has various features, including analytics, an embeddable widget, and more.
The only downside is that it doesn't allow users to shorten multiple links simultaneously. However, this should be fine if you are okay with saving your shortened links in a separate document or spreadsheet.
Price: If you decide to pay annually, the Starter plan for individuals works out to $24 per month. Additionally, Rebrandly provides free accounts and tailored business strategies.
The features for free accounts are decent; you get five personalized domain names and 500 branded links. There are additional analytics and link management tools available, though it should go without saying that more premium subscriptions come with better functionality.
Features:
Beautiful and customizable links

Social sharing options

URL preview

Mobile Apps

Free to use

link customization
JotURL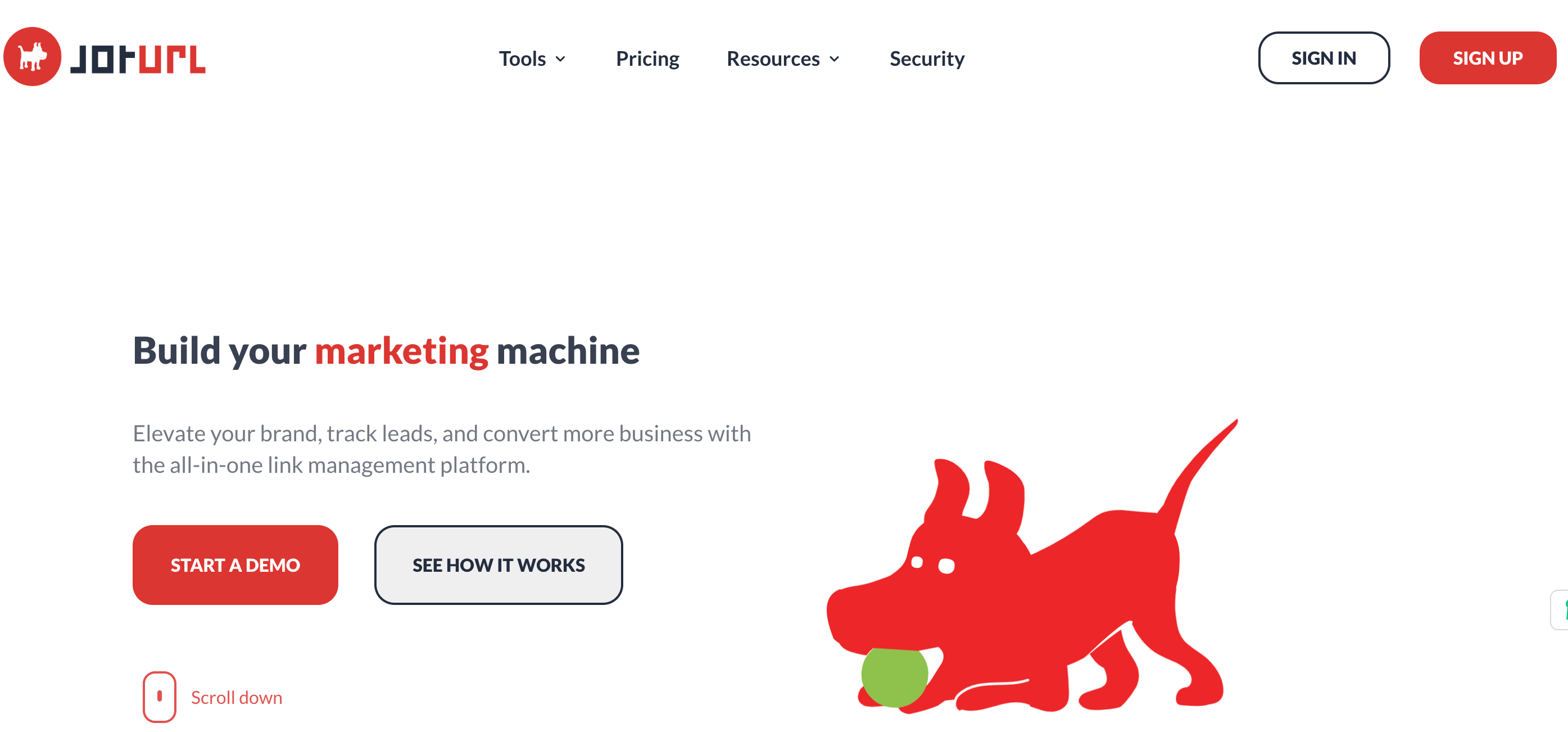 JotURL is a free URL shortener for your website. It allows you to shorten links and track statistics about how many clicks they get. You can also share your shortened links on social media, forums, blogs, etc.
The best part about JotURL is that it's simple and does not require additional plugins or software.
The website allows users to add custom tags before they shrink their URLs, so they can see exactly what they share with others. Also, you can decide whether to enable analytics tracking when sharing links on social media sites like Facebook and Twitter, as well as Google Analytics tracking when shortening URLs.
Price: The monthly subscription costs $9 per month, while the yearly plan costs $80 per year (which works out to $6.67 per month).
Features:
Easy-to-use interface;

Create custom URLs;

Supports HTTPS URLs;

Create shortened links with or without tracking code;

Mobile friendly.
ClickMeter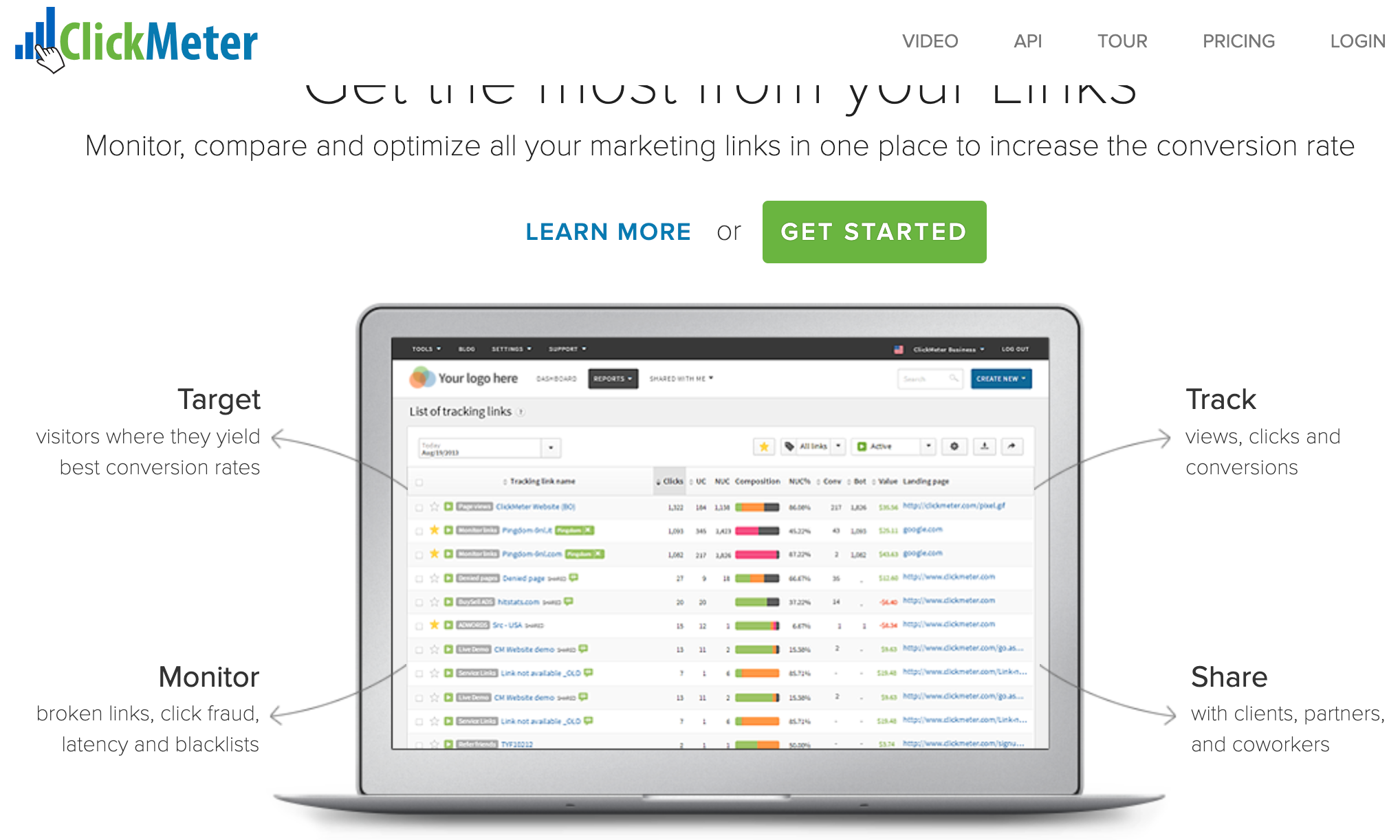 ClickMeter is one of the most popular URL shorteners on the web. It's free and easy to use, but it also offers advanced features like analytics and tracking.
The service allows you to shorten links, including those from video streaming sites like YouTube or Vimeo. You can also use ClickMeter to track how often users click or save your URLs, making it useful for SEO purposes.
Price: The app has several different pricing plans, ranging from $19 per month for unlimited shortened links to $75 per month for 100 million clicks.
It offers a comprehensive set of features that make it easy to track clicks on your links, including:
Link tracking with full reporting

Support for multiple URLs and campaigns

Customizable call-to-action buttons

Advanced filtering options
Tiny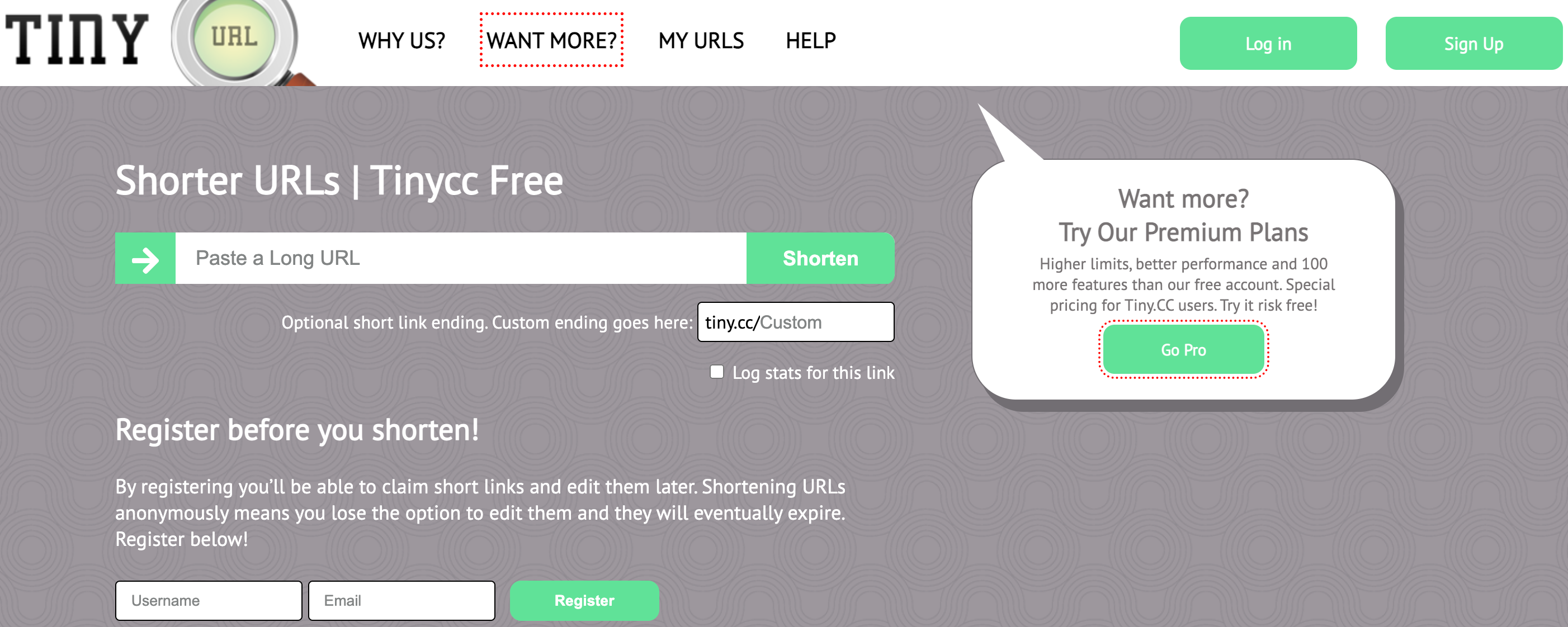 In 2023, Tiny.cc is rated as one of the best URL shorteners. Despite its age, it is still going strong. It features a simple interface but many useful features, such as custom domains, analytics, etc.
You can shorten URLs from any website directly or paste links into the box on their homepage. The site also supports sharing links on social media platforms like Facebook, Twitter, and Reddit, where it automatically converts short URLs into clickable buttons.
Price: Tiny also lets you create custom domains for your shortened links, making them easier to remember and share with others. This feature only costs $5 per month, which is good compared to other URL shorteners that charge much more for this feature (in fact, some charge over $50 per month).
Here's a list of some of the features that Tinycc offers:
Free link shortening with no limits

No logging in, no registration required

One click to shorten or expand a link

Customize the look of your shortened URL

Supports custom domains
Conclusion
Rather than using such a wordy link and harming the aesthetics of your blog posts, URL shorteners are preferable. Many dedicated services allow you to create short links, meaning you do not have to create these yourself. However, they can become expensive if you need to know where to look.
With the Replug app, you can take a link on your mobile and turn it into an auto-generated Replug link. This will save you from typing out a long, boring link that no one wants to share.
Frequently Asked Questions  
What are link shorteners?
A link shortener is a tool that allows you to create short links that are easy to share, track and remember. The most common use of link shorteners is to make long web addresses shorter and easier to read. Facebook and Twitter make sharing links from emails and messages easier.
Which are the best link shortener tools?
Several link shortener tools are available online today, but my favorite is Replug. They offer free accounts where you can create and manage unlimited links, track their statistics, and even get analytics data about how many times they've been clicked on!
What is the point of link shorteners?
The main purpose of using a link shortener is that it allows you to create shortened URLs without having to use any special software or programming skills. As a result, they are popular among beginners and advanced users because they are easy to use.
How do I shorten my social media URL?
You can use the social media shorteners below to create a short link for your URL. Once you have created the shortened link, copy and paste it into your post.
Is it Safe to Shorten a URL?
Shortened URLs are safe when using the recommended services listed on this page. However, if you need clarification on the source of the shortened link, we recommend that you type in the full URL or visit the website directly before clicking on it.
Sadia
Sadia Umer works on putting together high-quality content for ContentStudio customers to read. When she isn't writing, she can be found reading and trying random life experiments.