Content curation is more than just re-sharing content. It's about finding relevant, trending content and sharing it with your audience with valuable insight.
And in 2021, content curation is more important than ever. 
Ever since launching Content Discovery 2.0, our goal is to help you explore fresh, trending, and amazing content about things that matter to you.
We are now introducing a new filter in the Discovery feature: Relevance.
The relevance filter displays results on the basis of the relevance of the corresponding query.
Our Discovery feature is unique because it takes content discovery a step further.
It sorts results by taking into account the similarity score, article freshness. domain rank and authority.
It's all about you and your interests.
We've also added Semantic Search and Contextual Search to our search engine.
This is meant to provide the results based on connections built using a knowledge graph. To further elaborate, it means the most contextually connected content corresponding to the user's search query is presented to the user. (We'll explain more!)
This also paves a way to get results not just for words, but also for phrases e.g. best machine learning algorithms.
We have also refined the results to make sure you discover useful, relevant information and inspiration from high-authority sources on the internet for your marketing campaigns.
It's All Connected – Knowledge Graph
Our Discovery feature is unique. It helps you discover content you haven't even started to search for.
How?
In the past, search has usually been about matching the exact phrasing of the keywords to the user query. 
Consider the query "Data Science." To the content discovery engine, it was just two words [data science.] But we all understand how complex data science really is. 
It involves machine learning, predictive modeling, statistical analysis, data visualization, data mining and so much more…
That is why we have worked on developing an intelligent discovery engine – a knowledge graph that understands deeper relationships and how things are connected with each other. 
For instance, this is how the word data is perceived to be connected by the computer:
Now, our search engine is more sophisticated and incorporates semantic search principles while displaying results. So when you type in a query, the content discovery engine displays a refined set of optimized results, while understanding the relationship among things. 
This can also be called a "Semantic" or a "Contextual" search!
Semantics is the study of meaning and relationships between words. Semantic search relates to the capability of search discovery engines to interpret the intent and context behind the query. 
Everything's interlinked.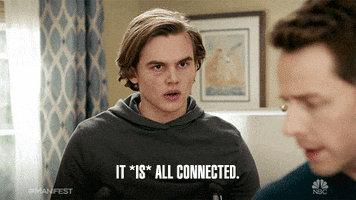 You can say the content discovery engine will now understand the world almost as people do! 
Giving you More Control: Relevance Filter
We have also introduced a new filter to sort the search results – "Sort by Relevance".
This filter matches the searched keyword with the connected words in our database, then displays the results by taking into account the importance of several aspects.
These aspects include the importance of the word searched by the user and the quality of the website in that particular time period.

The relevance filter captures the semantics as well as the quality of content displayed to the user. Ultimately, the user will get more contextually relevant and optimized content.
In this snapshot of statistical comparison, you can see what has changed:
Comparison of Discover 1.0 (Previous Version) and Discover 2.0 (Current Version)

This shows that the quantity of results is enhanced with an average of 500 times!

Wait, let me just represent this to you in a visual way so you can see how much of a big difference it shows!
What's more, is that the number of these results is increasing every single day!
How Will Content Curation Help Me?
Your followers want to know what you think.

So, when you carefully select the content you share with your audience, you can provide additional value by sharing your insight and a different perspective. 
Remember that social is all about building meaningful relationships and connections. By sharing well-thought-out content, it shows that you actually care about your audience and want to benefit them!
Establish Yourself as a Thought Leader
Give your take on the article you're sharing. 
If you think "hey, I'm not an expert, why would anyone care about what I have to say..?"

Here's a thing: You don't need to be an expert to give a piece of advice! If you have a business or a passion, you already know more about the subject than someone who's just getting started. 
Be one step ahead and that's all that matters. When you read up on the trending content every day, you'll eventually build up knowledge and excel in your industry.
Everyone starts from somewhere, right?
Foster relationships with the people in your industry.
When you share someone's post, and it sends some traffic to their blog, it's a great way to get noticed. 
You can tell them what you found valuable in their post. They will reciprocate, and over time you will establish yourself as an authority in your industry, and build meaningful connections.
Note: This feature currently only works for the English language!
We hope that this super-intelligent search engine will give you a complete picture, better quality results of the content you want to discover! Delve deep into Content Discovery. Spend more time doing what you love, and less time searching! 
Made easier by ContentStudio. 
Mariyum Noor
Mariyum Noor is a content marketer who is passionate about learning new things! She writes research-based blog posts for SaaS platforms that are seeking better ways to delight and engage their readers.