Influencer marketing has been around for ages now. Think of celebrity endorsements in TV commercials. Previously it was just the big corporation that could yield the power of influencers to endorse their brands.
With the introduction of social media channels and content marketing, the playing field changed. Now the power of influencer marketing was in the reach of small business owners, entrepreneurs, and even individuals.
Influencers are the people who have built a significant audience on a particular topic or theme, and that their audience not only loves hearing from them but also trusts them. In marketing terms, An influencer is an individual who has the power to affect the purchase decisions of others because of their authority, knowledge, position or relationship with their audience.
Related Read: How to Become a Social Media Influencer in 2022
When brands or other individuals reach out to these influencers to put a good word out for them, its termed as influencer marketing
The greatest advantages of influencer marketing are time-saving and impact. Instead of targeting a random audience or trying to build your own, you can save precious time by utilizing influencer's network.
The main differentiator in the case of influencer marketing is that the results of the campaign are collaborations between brands and influencers.
Who qualifies as a certified Influencer
Contrary to the perception of greater the audience number greater the influence, all that glitters is not gold. Influencers with a large social following do not necessarily drive the most engagement.
You should always look for certain indicators while searching for an influencer in your industry. Here are a few.
Is the person a content amplifier?
Do they share the same passion for the industry you are focused on?
What are the average engagement rates on their posts? This includes replies, retweets, and likes.
They respect the work you are doing
Engagement Trumps Followers
The importance of active and healthy engagement surpasses the urge for looking more reach. Reach has an impact factor of 10's or 100's times more than that of followers. A smaller more active following will generate more engagement than a greater number of people who are not clicking on Tweets to be reshared.
A study reveals the impact of shares and Retweets has on the virality of a post.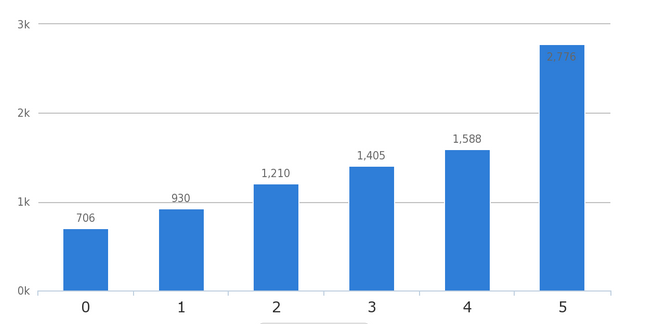 The X-axis of this graph shows the shares per post, whereas the Y-axis shows the engagement.
A Post that was Retweeted by one person received 30% more shares.
A Post that was Retweeted by three people received 100% more shares.
A Post that was Retweeted by five people received 300% more shares.
The data clearly validates the power of active engagement. A high Retweet rate will skyrocket your content amplification. Hence it is crucial for your influencer marketing campaign using team collaboration software with influencers with more engagement.
Finding the Right Influencers with ContentStudio
Our aim at ContentStudio is to let you explore all avenues of content marketing and social media management under one roof. With the addition of the Influencers Section, you will have complete command over influencer discovery and outreach, and find people really passionate about a topic as you are.
There are 2 methods of identifying influencers in ContentStudio.
Search Twitter Influencer
The keyword search allows you to identify influencers who have mentioned the particular keyword in their bio or have tweeted about it. Search for a relevant keyword in the Discovery module by selecting the Influencers tab.


This will open a world of influencers outreach opportunity for you. The searched results list the profiles which have a positive match of the keyword in their Twitter profile bio or have tweeted about it. These profiles, individuals, and companies are highly aligned with your keyword of interest.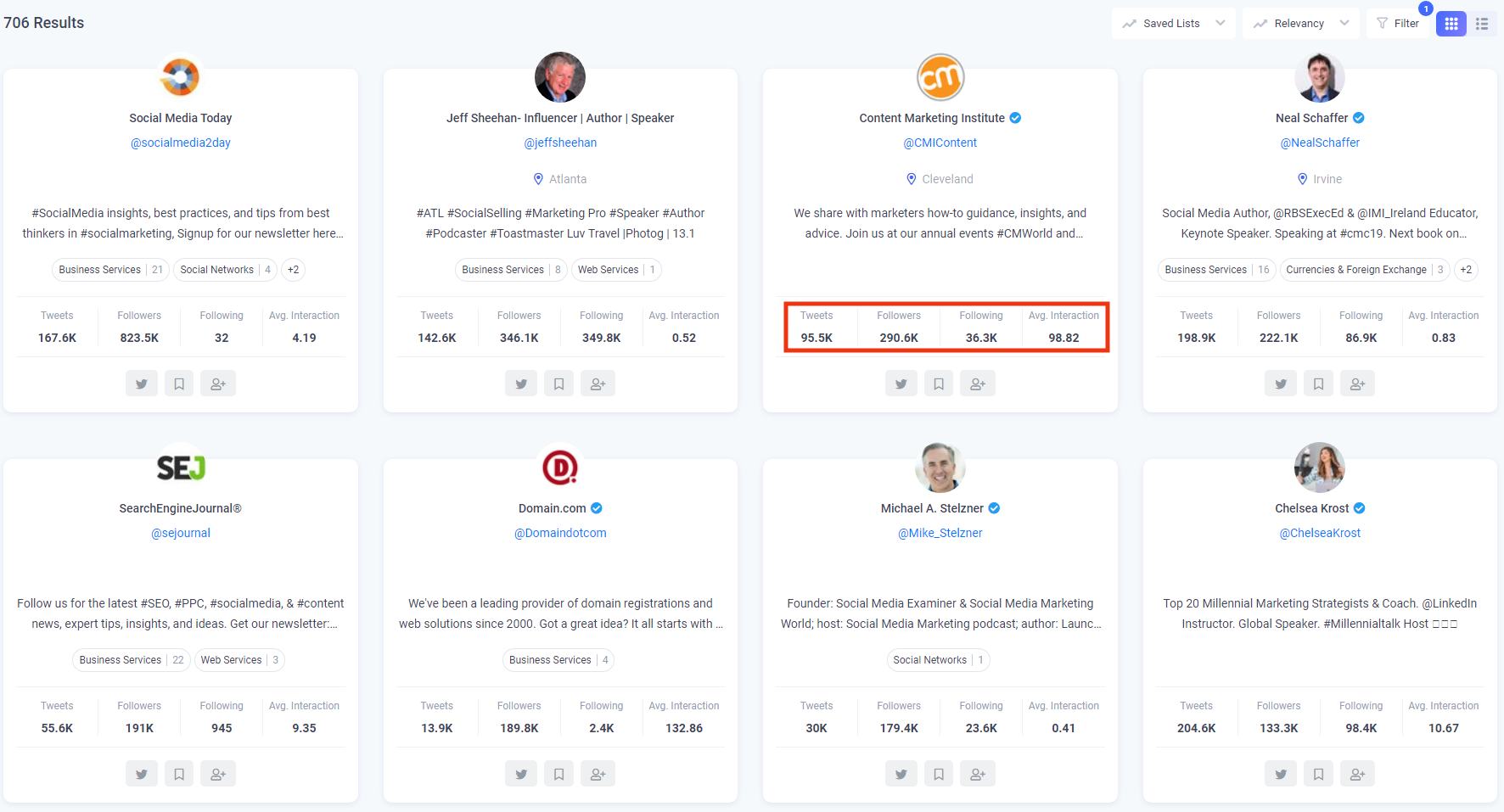 Here you get deep statistics regarding people who have an interest in the same topic as yours. This includes profiles, total tweets, followers, following, and the average interaction these accounts have generated. Average engagement primarily consists of Retweets.
You can also Tweet to these accounts, Follow/ un-follow them or add them to a list.
Now how do you identify the profiles from a sea of possibilities which you will dedicate collaborative efforts towards?
The combo you want to look for is followers versus average interaction.
Shortlist the profiles which have generated more average engagement as compared to their followers. Create a separate list and save them.
These are the people you want to collaborate with.
Now that you have identified potential marketing partners let's see what other surprises this module has hidden for us.
Influencer Details
ContentStudio provides you with data-backed analytics against each Twitter profile showing up in the searched results. This gives you the necessary confidence in knowing your influencer outreach efforts will yield the desired results.
Clicking on a profile reveals each influencer's detailed statistics which have allowed them to be shortlisted in your search results.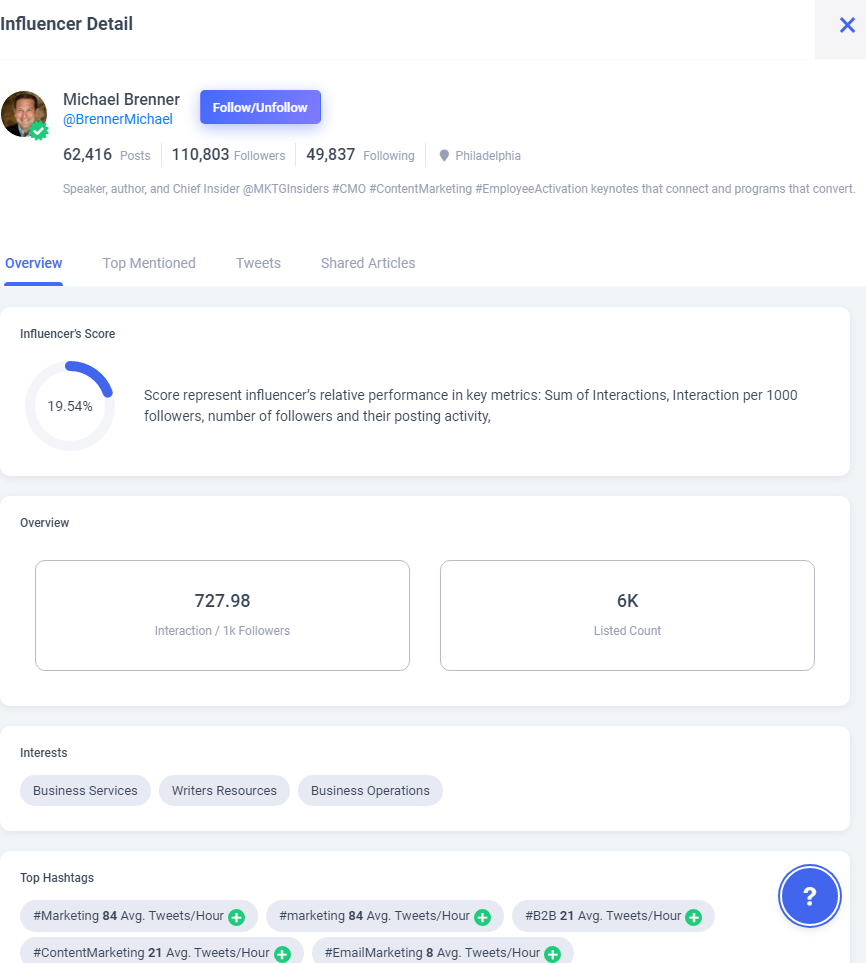 Right on the top, you get seven interesting attributes associated with the account. These are:
Name
Twitter id
Total Tweets
Followers
Following
Location
Bio
Below that you get comprehensive data pertaining to the influencer.
Top Mentioned Tweets
One thing is for sure,  to improve your brand's engagement you have to collaborate and connect with influential personalities and businesses.
A handy way to do this is weaving yourself in the network of influencers. This way your word gets around quickly.
Use the top-mentioned tweets sections to determine individuals' or companies that a certain influencer has mentioned in their tweets.
Now you have the knowledge of what interests people you are following and the Twitter accounts they keenly interact with.
Replicate their actions by mentioning these accounts in your own tweets and you will surely start getting a piece of the pie.
This will increase your brand's footprint and you will start appearing in the right places.
Tweets
This tab shows you the most recent tweets of the influencer you are interested in. This helps comprehend the latest trends and topics people in your industry are talking about. You can also gauge their posting frequency and try to match that to get better traction with the content you publish.
Notice the posting pattern of the influencer. Try and recreate your content around the topics they are talking about.
Another key attribute that you can replicate is the Hashtag these influencers are using. Using the right Hashtags is the defining factor in Twitter marketing. The influencers in your industry use their precious time and experience to dig out absolute gem Hashtags.
You can copy or recreate similar Hashtags to propel your brand's outreach in the right direction.
These tweets are also a great source of finding great ideas for your content. If you feel bogged down and running out of ideas to write about, simply search for your favorite influencer and see what content resonates with their audience.
Shared Articles
ContentStudio's influencer section lists down the articles shared by key figures in any industry. See what influencers in your niche are interested in reading.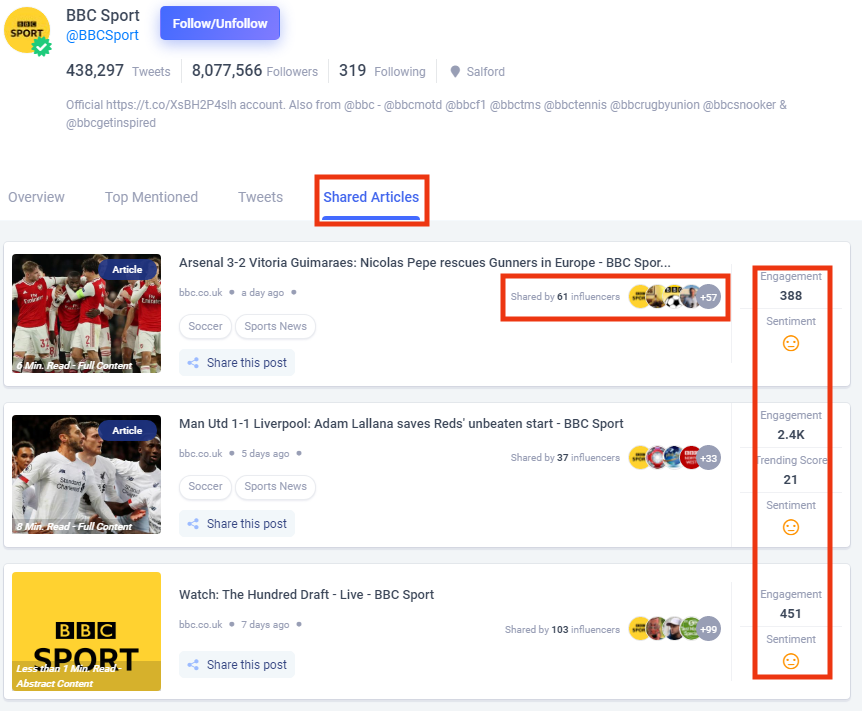 With so much information packed into this module, it is ideal for outreach and making real connections with key players. See the content influential people or businesses are sharing and try to follow in their footsteps.
This is a great way to publish reading worthy content as not all people have access to this information. This strategy has all the right ingredients of making yourself an influencer.
The greater the engagement and shares of a particular article guarantee better engagement on your social channels as well.
Intelligent Filters
The influencer section has some really handy filters that improve the accessibility of information on your fingertips.
Saved list: Save influencers to a list for instant access at any time.
Average Interaction: Sort the searched results on the basis of average interaction to list the ones with the highest interaction rates on top.
Filters: Filter influencers w.r.t type (Blogger, company, journalist, etc), Country, or language to get a targeted batch of results for effective outreach strategy. These are dynamic filters, meaning filter's categories dynamically change depending upon your searched term.
Another great filter is the company/ individual viewing option. It helps you connect with solopreneurs or corporations as per your needs.
List/ Calendar View: Switch between calendar and list view as in other ContentStudio modules to get a bird's eye view of searched results.
Search for Instagram influencers With ContentStudio
ContentStudio empowers you to expand the horizon of your influencer outreach by allowing you to search for influential personalities and companies on Instagram.
Instagram, as you all know, has over 1 billion users, second to only its parent network, Facebook.
Apart from famous individuals and companies, intelligent individuals have exploited the popularity of this network to create a loyal audience for themselves, emerging as influencers in their industry.
Instagram has skyrocketed the careers of models, cooks, photographers, and many others. Now it is your turn to connect with influencers in your industry and collaborate with them to promote your blog associated with your brand.
Simply select the Instagram icon from the drop-down menu beside the search bar.

Influencer Details
The Instagram influencer section highlights all the details associated with an account. This includes
Total posts
Followers
Following
Interactions/ 1k Followers
Average views per video
Influencer interests
Top Hashtags
Language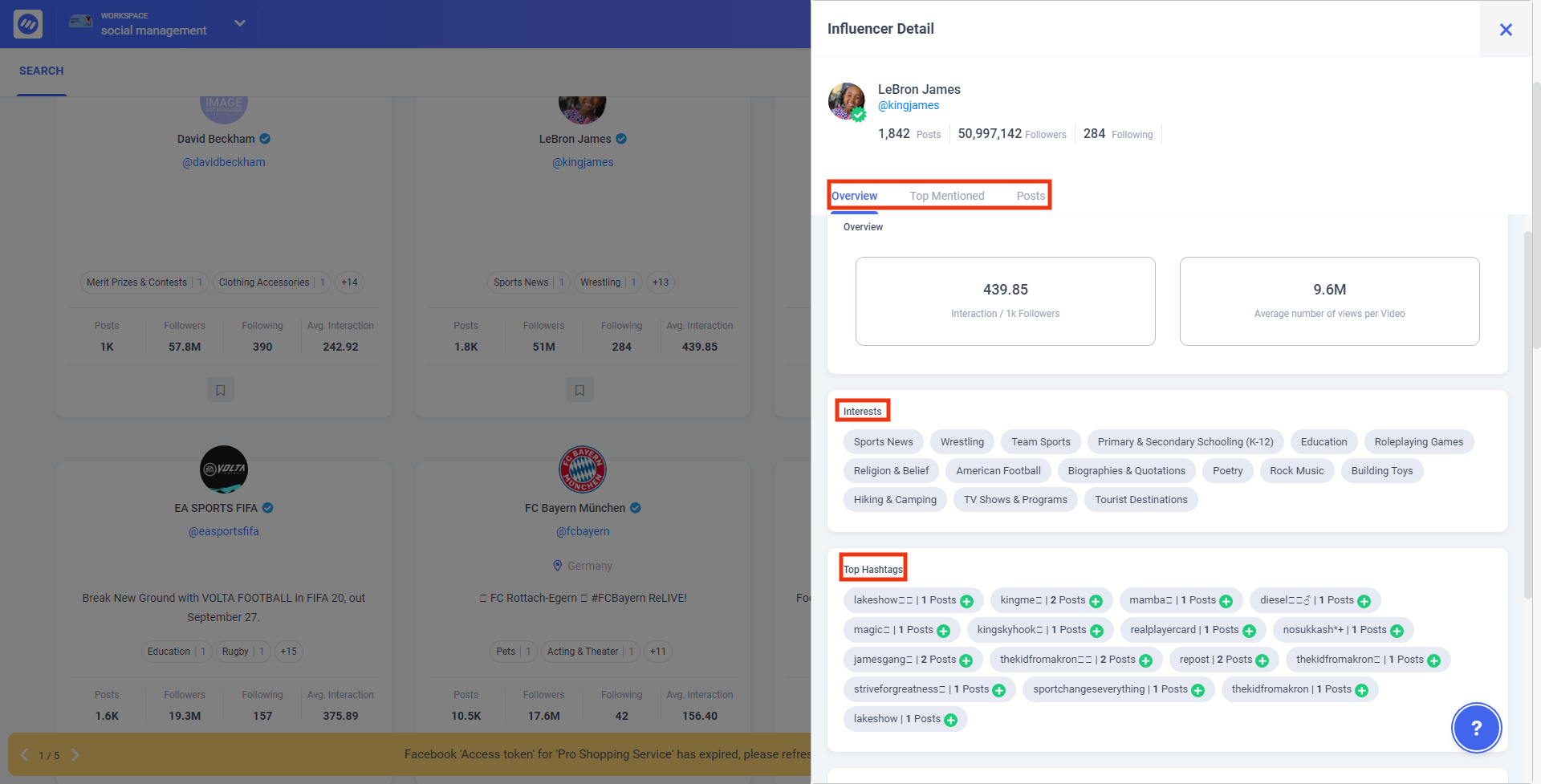 Once again you can capitalize on the availability of top Hashtags from influencers to get in on the action.
Hashtags help other Insta users discover your profile, which can ultimately increase the likelihood of obtaining more followers.
You can have a healthy and loyal audience by using the right Hashtags to which you can feed your brand's content and try to convert followers into paying customers and brand advertisers.
Top Mentioned
Top mentioned are those Instagram accounts which an influencer of your interest has mentioned in their post. This way you can see, interact and connect with other people or companies which otherwise you might have not known.
Posts
This section shows posts published by a particular account along with its engagement and comments.
This helps you keep in sync with the latest trends a particular influencer is interested in. Also, you can mimic the content genre they are using and try to get in on the engagement action.
Over to You
With this latest feature, we have tried to arm you with all the necessary equipment to connect with influencers and promote your brand. What you need to do is create an influencer marketing strategy for your business and use ContentStudio to execute it.
Search for people in your industry who have dedicated following and connect with them so that they become the voice of your brand. This will help shape your brand's image and ultimately transform into a revenue stream for you.
If you have other influencer marketing strategies that can be achieved through this feature, do share it with us in the comment section.
Wasiq Naeem
Wasiq Naeem is a content and digital marketing veteran who is passionate about his writing. Extensive research and producing high-quality content is just another day at the office for him.