This month's release contains amazing features for the Blogger Community and Social Media Managers. The irony hits you hard when your team sucks at team coordination, because what's the purpose of being in a team when you can't collaborate with each other. Nevertheless, since we are not robots, we tend to make mistakes because telepathy is still thought of as paranormal ability.
So, we at ContentStudio, feel the need that teams should vibrate with the same frequency. Which is why we have released some features which are anticipated to be beneficial for teams.
The saying is "the more, the merrier" but in terms of content it becomes "the more, the messier", but this only applies if you don't regularly organize your content. In ContentStudio, you can declutter your content very easily and without having to spend too much time on it.
Let's view each of the feature one by one to gain more insight into these features.
Feature#1: ContentStudio Discovery now covers 'Medium' and their publications
The purpose of the content discovery module is to bring trending, relevant and fresh content to your fingertips. This results in higher engagement statistics as everybody wants to be up to date about the latest news in their specific industry.
One of the great content hubs is medium.com. Medium is like Twitter for long-form content except it has an algorithmic timeline that tells you what stories you're going to be interested in. Medium is a powerful blogging and content syndication platform and a great source for top trending content. ContentStudio has now added medium.com and its publications to its sources for retrieving fresh content.
This gives you access to countless more articles which subsequently you can categorize into your favorite topics.
Feature#2: Content Categorization
Categorization keeps your content organized and helps you to schedule the right type of content at the right time. This will save your time of traversing through each post individually and scheduling it by hand.
You can segregate the in-house content into product updates, tutorials, how-to videos, or any other collection of your choice.
Navigate to Content Categories by clicking on the Settings icon located on the right top corner of ContentStudio app.
Create new categories by clicking the "Add New Category" button. Create as many categories as you wish to classify the type of content you publish. This gives you better control over the content and helps you split it appropriately.
You can also delete the categories that you do not need anymore. Simply click the "Bin" icon on top of each category to remove it.
The Shuffle Content option is much like the shuffle option in your audio playlists. You have arranged the songs of a particular genre but would like the player to surprise you, just for a change.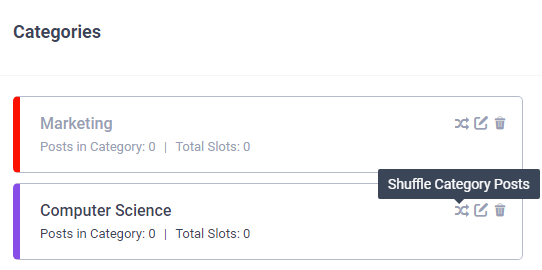 The great thing about content categories is that you can define the exact time when the content from a category will be published. This relieves you from manually setting 'publishing time' for each post you create.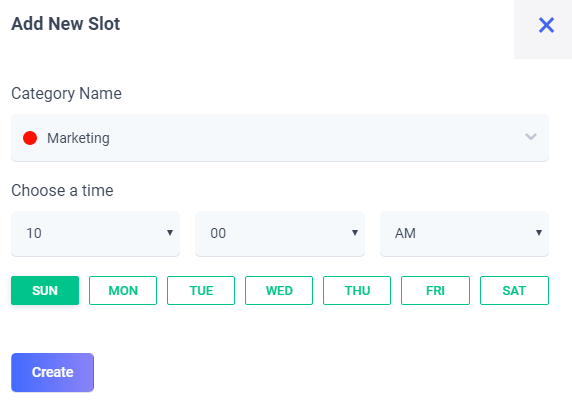 Feature#3: Bulk move items in the Composer publications
If you regularly post to three or four social channels, you would have noticed that the composer publication section will get overcrowded very soon. And, at the same time if you start composing a blog post and save it in your drafts, finding it would be a hassle. That's usually because blog posts take much more time to complete yet the drafts are being listed in the same place with your social media posts.
Now, let's say you forgot the actual title with which you created your blog post in the composer. You have to find your blog in the sea of the social posts that you're creating daily.
Hence you have to scroll quite a few times before you reach the desired section of the publication.
This hassle has been eliminated in the latest release of ContentStudio. Now, you can apply bulk move and delete operations which allow you to cleanse the publications section. You can create a campaign for published items and move the published posts by applying bulk move operation on them.
Similarly, you can apply bulk delete operation on unwanted drafts or the posts which you do not want to be shown in the publication. This will remove the clutter and help you organize your publications in a better manner.
Feature#4: The addition of new sources to the discovery section
We constantly strive to add new and authentic sources in the content discovery module to enable you to share trending content from your industry. We have recently added 150k new sources to expand the range of content populating the discovery module.
Right now, ContenStudio has over 3.52 million verified sources which are crawled every 30 minutes. So, if you were not able to find content relevant to your industry, we are sure you will now.
Feature#5: Editing rights while composing a blog post
Teams work together efficiently when each member resonates with their team and everyone is on the same page. For example, you're composing a blog post and you have assigned your team members different tasks like adding relevant images, optimizing the blog post or reviewing the post for grammatical errors. While you're working on the blog post, the team members won't be able to access your blog post unless you grant them permission to do any kind of activity there. If you're working, the team member can ask for access permission by clicking on the Lock button, as shown in the image below.
A pop-up window will appear where the team member can request access from you.
If your screen is idle and you're not doing anything, you can give them rights to perform their assigned tasks. Otherwise, you can decline the request and carry on with your work.
'Force Take Over' Control If for some reason, the initiator is not allowing you access rights, you can take control by the Force Take Over option.
Feature#6: Version History in Composer
Mistakes could happen at any end and from anyone. The admin oneself could also make a mistake and sometimes another team member points out that mistake. That is the perk of working together in a team. You work together to make the best possible yield of your product or anything for that matter.
Keeping all this in mind, we have introduced this feature in our composer. It helps you to check your work one last time before finalizing it.
You can set any of your saved versions as your "Current Version" and restore it.
Read more about this feature in our blog post.
Feature#7: Word & Paragraph Count
This feature is a complete blessing and all the bloggers who write word specific blogs can feel me on this.
Sometimes, when you're writing a blog, you have to take care of the word limit. There are some SEO or other contributing factors which require you to write lengthy articles. Then, you need to keep a check on where you're taking the length of your content.
For this, we have introduced this feature in our blog Composer where the paragraph and word count is updated in the real-time. This helps a lot in retaining your concentration at your content and at the same time keeps a check on it.
Summing up
In this blog, we discussed the August release package which contains the following features:
Search Medium publications in the ContentStudio Discover module.
Categorize your content and declutter your workspaces.
Organize your content into different campaigns; apply bulk operations to move or delete your content.
Control the activities performed by your team members.
Publish the best content by viewing the version history of your work.
Keep a track of the total no. of words and paragraphs in your content piece.
We hope you enjoyed reading our blog. Let us know what you think about our latest updates.
Feel free to leave a comment below or contact our support channel ([email protected]).
Wasiq Naeem
Wasiq Naeem is a content and digital marketing veteran who is passionate about his writing. Extensive research and producing high-quality content is just another day at the office for him.