Are you concerned about what to publish next on your blog? Content marketers, bloggers, and SEOs tend to focus on newly written, fresh content all the time. The race to come up with better content than competitors, engage a wider audience, and get more social media shares to keep them on their toes. The problem is that it creates a sense of direction that WE HAVE TO CREATE FRESH CONTENT to stay relevant. What the narrative I want to give is that you don't need fresh content every now and then. It's absolutely necessary to invest in new content, but at times, you have to do otherwise.
The whole idea revolves around understanding your popular content to make better decisions for your content marketing campaigns in the future. You're so much focused on the "creation" part of the plan that you don't go through your website analytics to find out what's going on there. 
You could elevate your content marketing campaign by finding out more about your most engaging content so that you could understand the pulse of the audience. It'd help you:
Create more relevant content for them

Figure out the market segment that should be focused more

Understand whether or not the content strategy needs a shift

Steer your content creation policy after seeing the response in social media
If you're a little bit confused about the whole most-engaging-content thing, especially after seeing a meaty blog post title containing the words such as:
Discover

Curate

Amplify

Measure
To make things easier, I'll go through the steps to explain the idea. Some of you might not have stumbled upon these things, but it doesn't matter because I'll try to keep it simple. All you need to remember is that I'm discussing how to vitalize your content marketing without creating new content.
Once you finish reading this blog post, not only will you be able to utilize your old content, but you'll also have a better understanding of content distribution and promotion.
Let me walk you through the whole process of finding the most engaging content in three steps:
#1: Discovering Your Top Content
At step one, it requires some digging, meaning, you'd have to do some research on your previous content. Start off with discovering the content that's doing well as compared to the rest of it. What it means is that start looking up for the top content that's outsmarting other content. Once you discover the top content, you must realize that you've done something significant during that course. Everything you'd read in this blog post would depend on the discovery of your content. I'll show you a couple of methods to do that.
Use Google Analytics
Check out your Google Analytics and see for yourself what content is beating the rest. There is no rocket science in finding the top-notch content in your Google Analytics. If you're a blogger or an SEO expert, chances are, you already keep an eye on your Google Analytics data. All you need is to log in to your Analytics account and look at the most visited pages: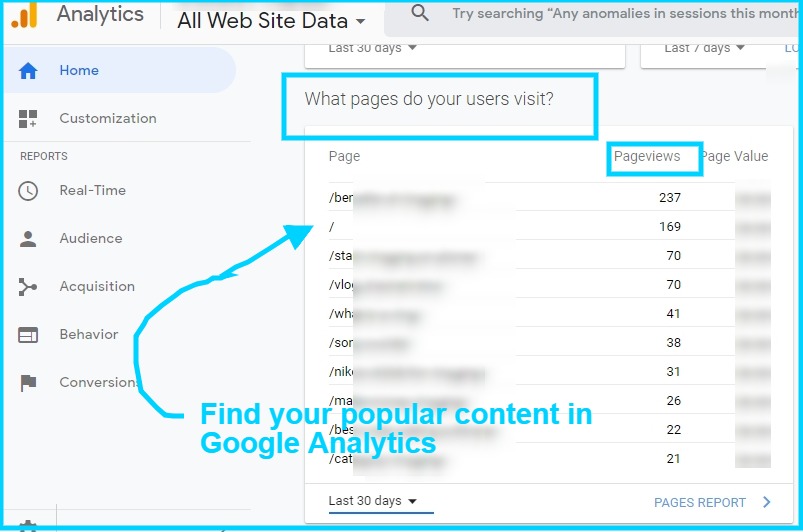 It'll give you some understanding of your organic search audience as well as content that has been doing well from the SEO standpoint. The benefit of figuring out your top performing content is that you can use it further to maximize your content marketing ROI. You'll learn more about this in step #2.
Find Your Most Shared Content
The second thing you might want to do is to look at your social media statistics and analyze what content is being shared the most. To make this happen, go to your social media plugin's statistics or social media account to find out the details.
For instance, Addthis is a popular social media sharing tool. It has a statistics feature that tells you the details of where your content is being shared and more: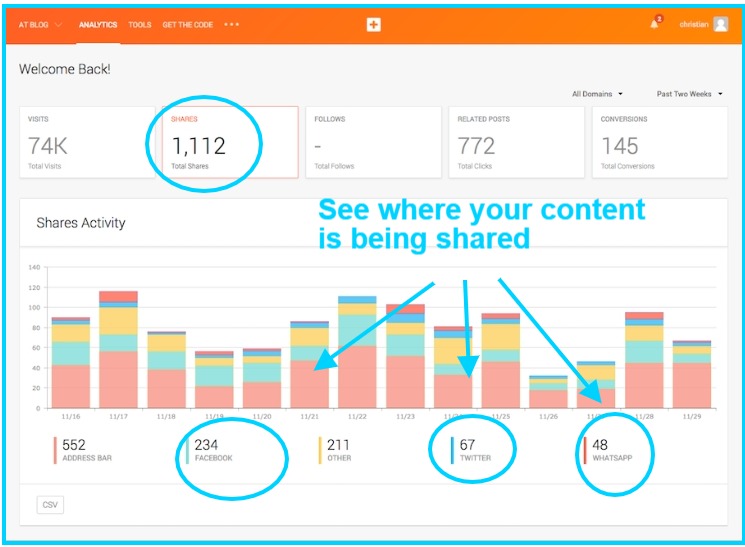 Similarly, you could also check out the Twitter Analytics to understand what's going on with your tweets.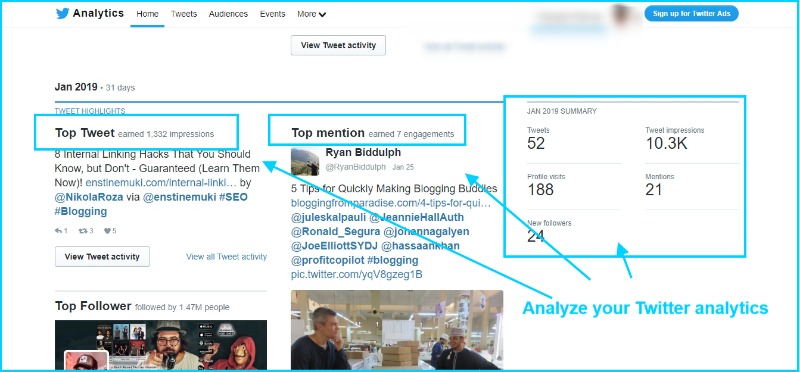 Once you know the top tweet, you can understand the type of content that got higher attention than the rest of the content. You can always go deeper and analyze the overall content of the whole month as compared to other months. If you see any significant improvement in retweets, replies, and likes, then consider it a positive sign.
Facebook also provides you with page insights to help you understand how your content is performing on the platform: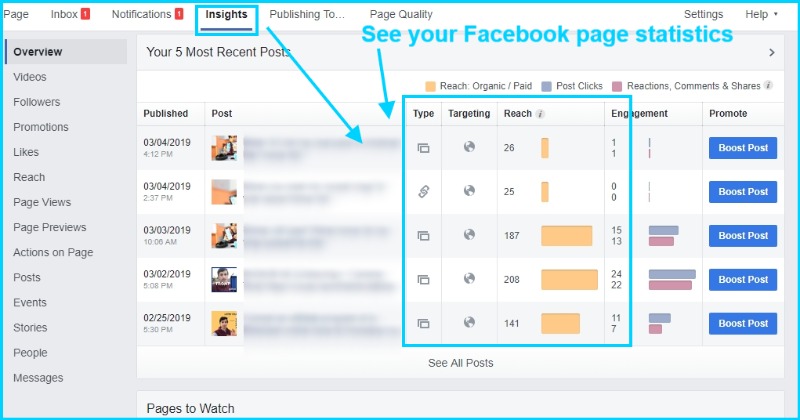 So once you go through your content and social media statistics, you'll have a better idea of your engaging content. You can surely leverage this opportunity to maximize the outcome by creating similar content, creating relevant products, or dominating the market segment by keep pushing harder.
Organic search traffic and social media engagement are two of the popular sources of attracting eyeballs. So understanding the user-behaviors and activities would facilitate the overall marketing goal.
#2: Curate and Amplify for More Attention
At step two, you can do curation and amplification to make the most of your content. What this means is that you can curate the top content into different forms to amplify the outcome. You don't necessarily need to be a content marketing expert for doing this. Instead, you can follow-up the tips in this blog post and do it yourself.
The plan, however, is to give you the essence of this idea. Content curation plays a huge role in getting more attention to your blog. But before digging deeper, let's elaborate content curation. 
Content Curation is a process of stacking up relevant content and putting it in front of the audience through articles, videos compilation, and infographics.
What we need to do is start utilizing the discovered content and leveraging it for more attention. At this stage, you'd have a clear idea of your most engaging content because you've gone through some statistics and found a few articles that are doing well. It's not a lot of work to do, but the results may surprise you.
So now you can leverage those pieces of content in various ways. Let me share a few methods that will help you gain more attention:
Repurpose your content
Repurposing the content is a content curation strategy which is based on creating a different form of content from already created content. For example, you can repurpose your article into an infographic for Pinterest, which means, you'd take an already written article and create an infographic from the points taken from the article. 
When you begin to repurpose your content, you get access to the audience on the various platforms. For instance, if you're using your written content and making infographics for Pinterest, Image posts for Instagram and Facebook, and video content for YouTube, you're making the most of it. Plus, you'd be reaching out to the new faces on each platform. So you get to see more attention with the same message on different avenues. 
Mention Influencers and get noticed
Mentioning influencers in your content or in social media is an engagement strategy that works for most people. All you need is to take care of what you're offering to the influencers. A lot of people make a mistake that they do it for something in return and this is where the idea dies. So don't mention an influencer with an expectation in mind.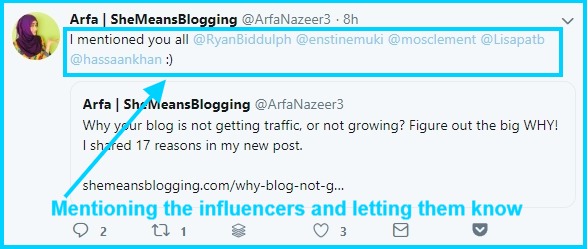 To get noticed by the influencers, make sure your content is compelling as well as you aren't asking for anything in return. It entices the influencers to check out your content and ultimately share with their followers.
Ask fellow bloggers to link out
You can always reach out to your fellow bloggers and share your best content with them for linking out. Feel free to DM or email them asking for a favor. Make sure that you aren't being too pushy with this. And, consider sharing the top-notch content for linking out. There is even a better way to pull this off.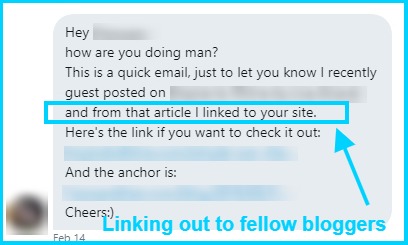 Why don't you link out to your fellow bloggers first? This seems the best way to make it happen. Simply link out to their content without even asking for anything in return. Some of them would likely to reciprocate the favor, anyway. In case, they don't, wait for your best content to be published, and then ask them to link out.
Post on new platforms
You'd see some bloggers and content marketers publishing content on other platforms. It means that you can republish your highly effective and engaging content to the other publishing platforms such as LinkedIn and Medium. You'd find content, especially on Medium, that has already been published and people repost it on Medium to get more attention to their already produced content. It's essential to attribute your content so that people could discover the original source of the content.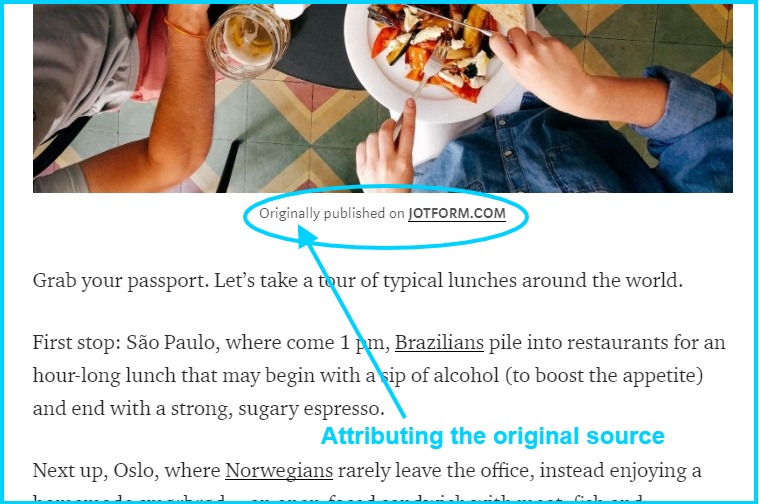 Be creative with crafting your own methods to get the attention. The purpose of this step is that you should take a step back from creating the new content and maximizing your previously written good content.
#3: Measure the Engaging Content
It's necessary to garner the benefits of content creation to make the most of it. Once things start to roll with your curation, there is a check-and-balance required to study the outcome. So it brings us to measuring the most engaging content so that you could analyze how your overall content strategy is doing.
The question, however, is that how you can measure the most engaging content. Once the discovery and curation have happened, next comes the measurement challenge to figure out the output of engaging content:
Here are five simple methods to do that:
Number of Comments
Go through the blog posts that you've worked on in step one and two and see the number of comments. The discovery and curation must have pushed the needle. The number of comments could easily tell the level of engagement.
Social Media Sharing
Look at the number of social media shares on that content. One of the measurement scales of the most engaging content could be the number of social media shares. The more a piece of content is being shared in social media, the better it's considered among the overall content. So this social media metric does the trick in this regard.
Pageviews on the blog posts
One of the ways to measure the most engaging content is the pageviews on the blog posts. Have you not seen the total number of views on the blog posts? It's quite useful when it comes to measuring the engagement of a blog post. Beside other metrics, a well-engaged blog post would surpass the average pageviews on the blog. There are WordPress plugins such as Pageviews and Simple Post Views Count that can help you analyze the pageviews in WordPress.
Organic traffic on the content
Organic traffic on the blog posts could also determine how successful the content has been so far. Plus, such content is likely to have more engagement just because of the more traffic on it. You could check out your Google Analytics and Search Console statistics to find out whether or not those specific blog posts are getting organic traffic.
Conversion rate
It's not compulsory that every engaging piece content would convert the visitors into paying customers. Maybe there is no product placement in the content to measure the conversion rate from that specific blog post or page. However, if it happens to be the case where there is a possibility of measuring the conversion rate, you could analyze the effectiveness of engaging content through its conversion rate.
So it's been learned that there are several ways to measure the most engaging content. The reason it's essential to measure is that the creator would have a clarity of what to create next based on the previously created popular content.
Conclusion
The very idea of this whole topic is how you could pay attention to the success you have had in terms of content creation. Moreover, the concept explains how you could elevate the popular content to achieve more. 
We keep striving for more, better content on our websites and blogs without realizing to cash in on the previously created content. Sure, you can schedule old content using a social media management tool like ContentStudio, or you may highlight your previously written articles in the new ones.
Is it enough? This is something one should be answering.
Because I know that it's not easy to create in-depth, high-quality content on a regular basis. So I decided to shed some light on a topic that could rejuvenate your online marketing, product promotion, and overall business growth without spending hardly any money. 
If this thought-provoking blog post could turn things around for two people then it's all worth it.
I've shared how you can:
Find your top content

Reshape it to maximize the output

Measure its impact in the long run
So that you could learn what type of content has done well on your blog and what needs to be done to the up and coming content. You could leverage the specific topics, areas, and keywords after going through these simple steps.
What else should be done to discover, curate, and measure the most engaging content?
Hassaan Khan
Hassaan Khan is a freelance writer for SAAS companies, e-commerce stores, and niche websites. He has contributed to SEMrush, ThriveGlobal, BloggingCage, AllBloggingTips, and several other publications. He builds niche websites, publishes e-books, and helps website investors with his done-for-you niche site-building service.