How long have you been writing blog posts and sharing content on social media? If you have been doing this for quite some time, but haven't got any breakthrough yet, then you need to hear this: I'll tell you some content marketing hacks to drive traffic for this year 2022 to your blog or website.
But it won't work if you skim through the article and just read the sub-headings.
Don't worry, I won't write hefty content hacks for you, but you got to pay close attention.
Quick question: do you get a ton of website traffic through search engines and social media?
I reckon the answer is no.
What if I told you that driving the traffic isn't enough?
Folks, driving the right traffic matters.
Let me tell you right off the bat, it doesn't happen quickly. What I mean is that if you've been publishing blog posts, but you haven't seen any significant traction on the blog, it shows that you took a wrong turn somewhere. Otherwise, your content marketing efforts would have paid off.
Before I dig into seven content marketing hacks that you need in 2022 specifically to drive traffic to the blog, look out for the three key elements of building a content plan:
I.          Readers' Intent
It's essential to keep the readers' intent in mind. It helps you build a perspective on the value you can deliver to the readers. Putting out content without understanding the intent of the reader is like a shot in the dark. One can't afford to keep focusing on the areas that have no significant ROI.
So it is essential to understand your customer first. Then create content for them accordingly.
This had been an essential element always but in 2022 it has grown to another level. So pay close attention to what your readers want
II.        Easy-to-understand Language
The writer's language plays a vital role in sending the message across. It's necessary to get to know your intended audience so that your content becomes understandable. The bloggers are supposed to make things easier for readers. On the contrary, some bloggers bombard their readers with vocabulary and metaphors and end up frustrating their audience.
III.      Digestible Content
If the content isn't digestible for the audience, then it won't make a difference. You must figure out whether it's the topics selection or the keywords or niche — try fixing whatever it is that is causing the problem. You can use content discovery to find trendy and up-to-date topic ideas for your blog. Focus on solving a specific problem and cut the fluff, and the content would start to do wonders for you.
What is content marketing?
Content marketing is the strategy to promote your product or service by analyzing when and what to post on which social network. This approach is used to increase brand awareness by posting the right content on the right platform at the right time.
Let's dive deep into 7 content marketing hacks to drive more traffic to your blog:
1. Choose Question-based Blog Post Titles
Content marketers and bloggers put a lot of effort into creating blog posts for search engine ranking and social media engagement. Most of them target the keywords to get the results. They use all kinds of keyword research tools to find the keywords for writing articles.
A small percentage of bloggers and content marketers utilize all three types of blog posts such as informative, staple, and review blog posts quite effectively.
If you're putting your time, energy, and money into writing articles, but not seeing any significant results whether it's conversion or driving blog traffic, then try using question-based blog post titles.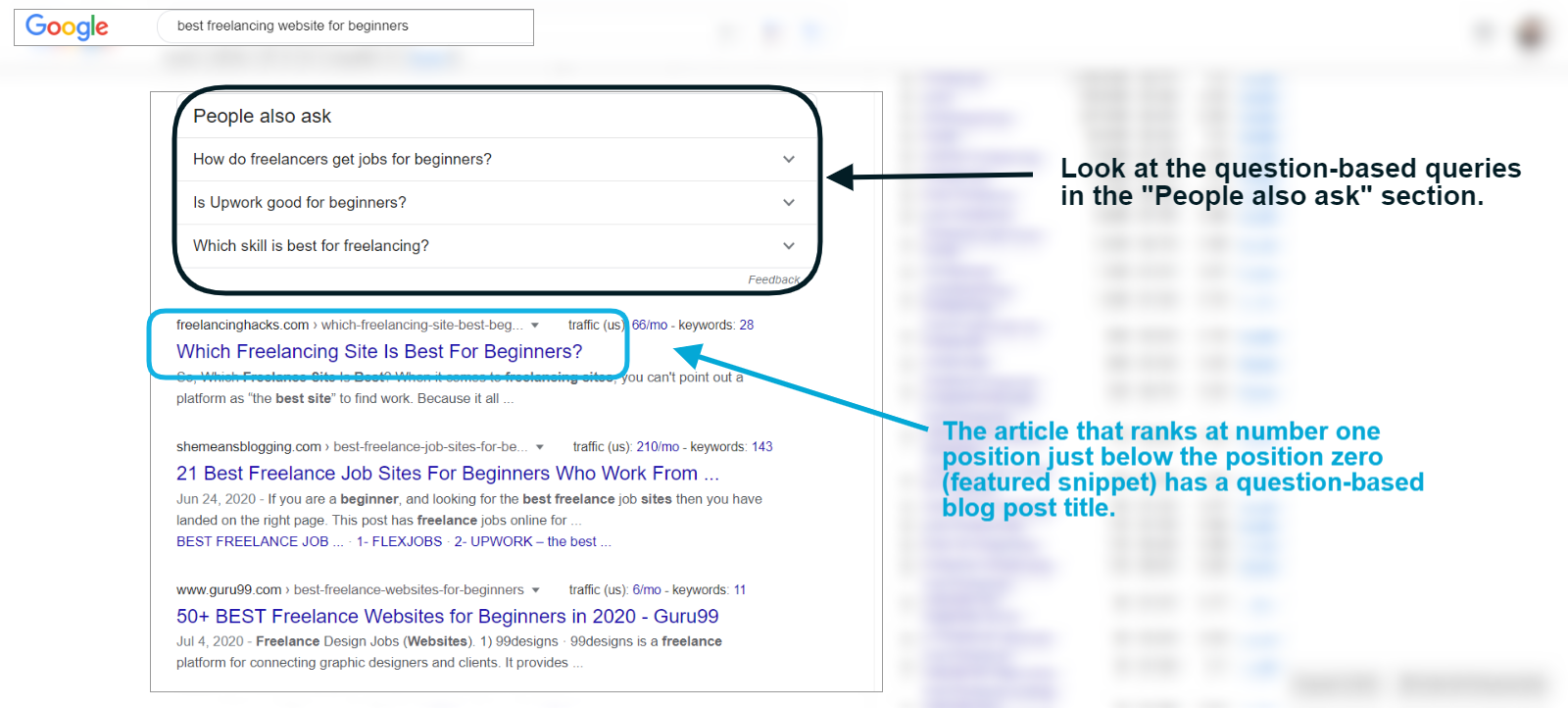 It's not just me who believes in this.
A lot of niche site experts and pro-bloggers use this technique to drive massive traffic to their blogs.
Spencer Haws is one of those niche site experts. He even made a YouTube video on this technique: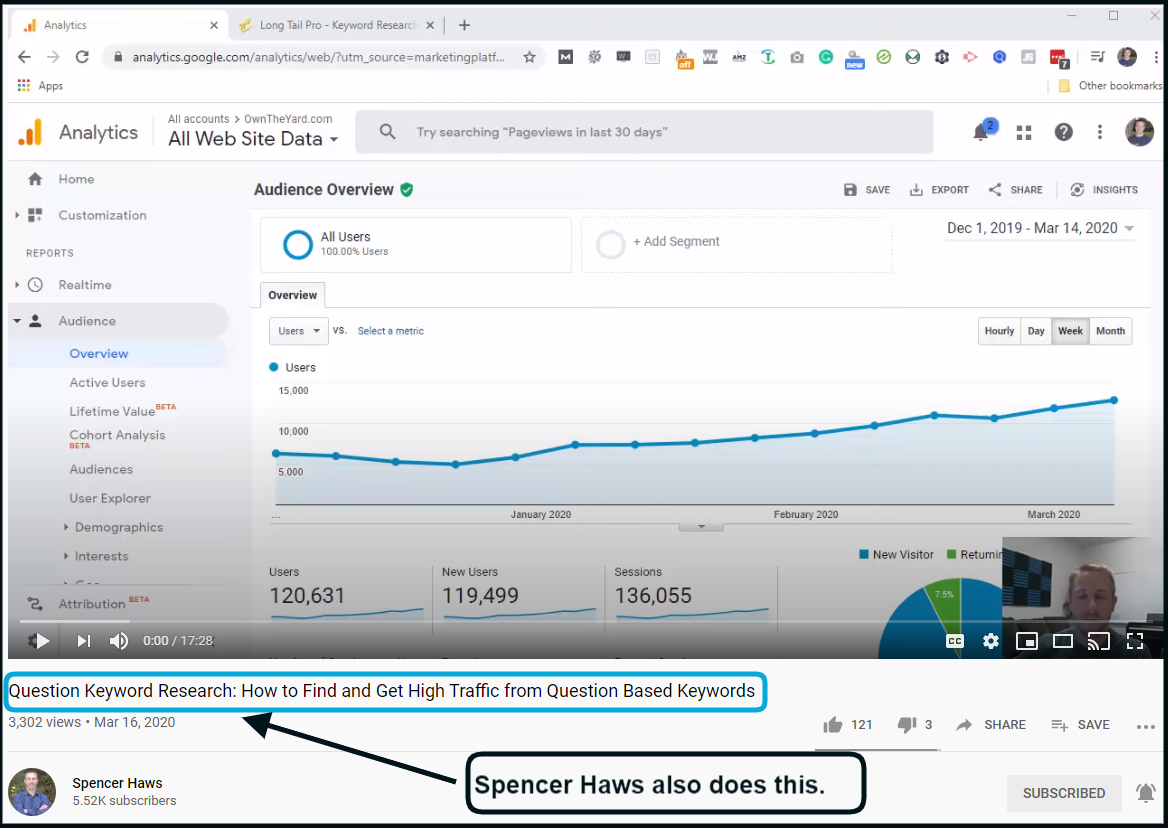 He shared his Google Analytics account to showcase how question-based blog post titles are doing better than the rest of them.
It's not a random tip that I heard somewhere on the internet. I have been trying question-based blog post titles for quite some time. And, the results have been pretty impressive. My articles are ranking on the first and second pages for the majority of such articles.
Here's an example: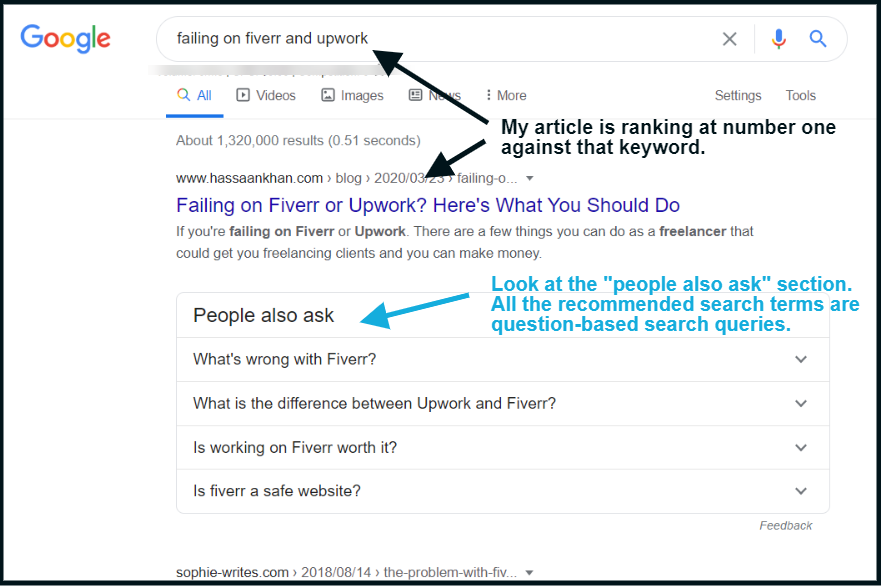 The point I'm trying to make is that chasing the keywords isn't a bad strategy, but if haven't been able to hit that sweet spot in your SEO game, then try this content marketing hack and see it for yourself.
Here are some key points to remember when creating question-based blog post titles:
  Brainstorm on the areas where your prospective audience is vulnerable
  Look out for the problems that your audience complains about
  Use Quora, YouTube, and Facebook groups to find out the issues your intended audience may have
  Choose only those questions that you can answer with confidence
  Analyze your previously successful content and create relevant pieces
  Surveying your email list and social media followers also help decide the right topics
The best thing about such articles is that you don't have to write 3,000 words articles for such titles. Instead, you can write anywhere between 700 to 1,500, and it'd do the job.
2.  Make a Pinterest Strategy for the Blog
Most of you might not even be using Pinterest. What it means is that you're missing out on a lot of opportunities. Remember when you're goal is to drive quality blog traffic, then you need to utilize every platform that could potentially send visitors to your blog.
Pinterest has more than 454 million monthly active users. If you have been ignoring Pinterest for a while, then you perhaps don't realize that Pinterest has a search feature, which ranks pins, drives traffic, and grows followers. Plus, a platform that has millions of active users is worth trying.
Oberlo did a study on Pinterest and shared some statistics back in January. It was fascinating to see some statistics on the gender, age, locations, intent, and buying decisions of Pinterest users.
Pinterest is one of those platforms that bloggers use to drive a lot of website traffic. Some of you may have tried it for a while but didn't see any traction, which means, you didn't figure it out.
You may have to use some third-party tools to create and schedule pins. Let me share some essentials of making a Pinterest strategy for the blog:
I.          Convert Your Account into a Business Account: First things first, you should start with converting your Pinterest account into a business account. Once you do that, you'd have the access to the analytics, which will help along the way.
II.        Explore Your Niche on Pinterest: What I mean by exploring your niche is that use the search feature on Pinterest and try to explore the keywords and types of pins that show up against your keywords. You must have 10 to 15 Pinterest boards. Exploring the niche on Pinterest should help you decide what names to be given to your Pinterest boards.
III.      Design Attractive Pins: Since Pinterest is a visual platform so imagery matters on this platform. Designing Pinterest pins is crucial to your success on Pinterest. The more you design attractive pins, the better they're likely to perform. You can use Appy Pie Design, Canva, DesignCap, or Visme to design your Pinterest pins.
IV.      Use a Scheduling Tool for Pinterest: Contentstudio is one of the most popular scheduling tools for Pinterest. Use any scheduling tool available on the market to expand your reach on Pinterest.
V.        Keep an Eye on the Analytics: Pay close attention to your Pinterest analytics to understand what type of designs and topics are gaining traction on the platform. You should double down on the types of pins that are getting more views and clicks.
A YouTube channel called "The Savvy Couple" posted a video that has gotten 46k views. It's a 50-minute video that explains how this couple has been able to drive 100k Pageviews through Pinterest.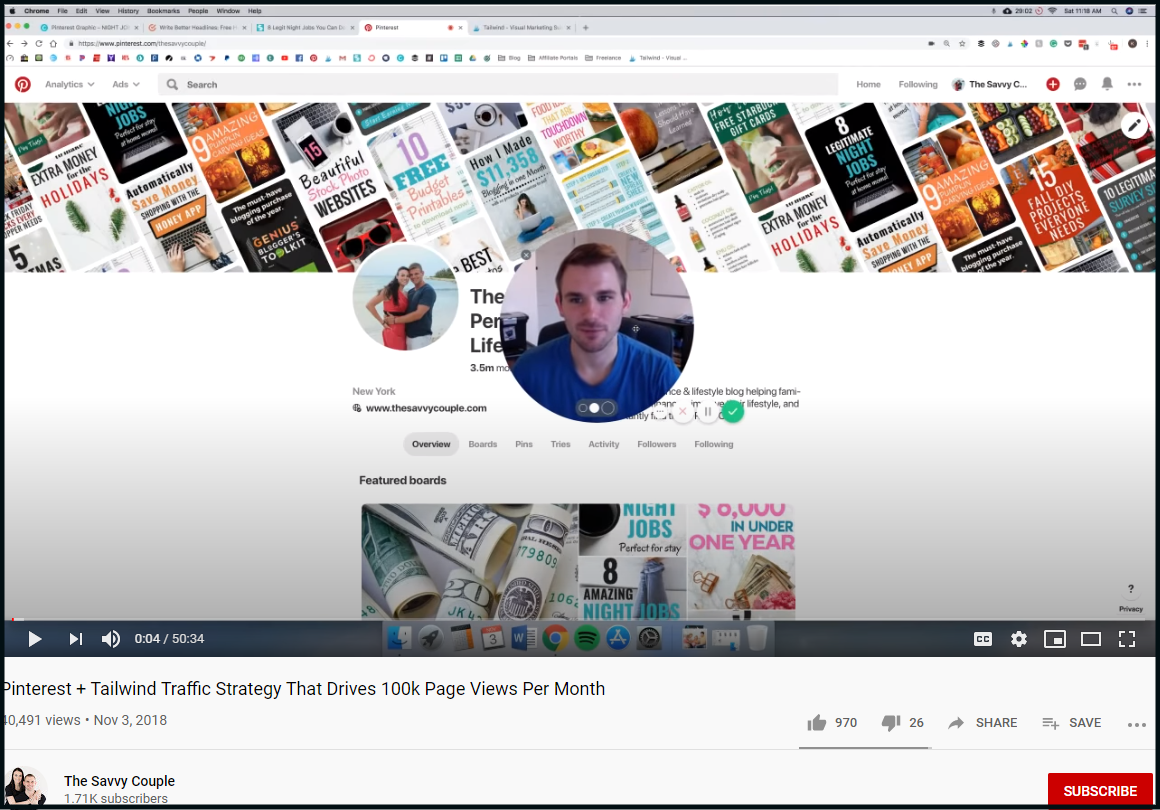 They go into details of how to get started on Pinterest and what they did with the pins that provided them with a pedestal to drive that huge number of blog traffic.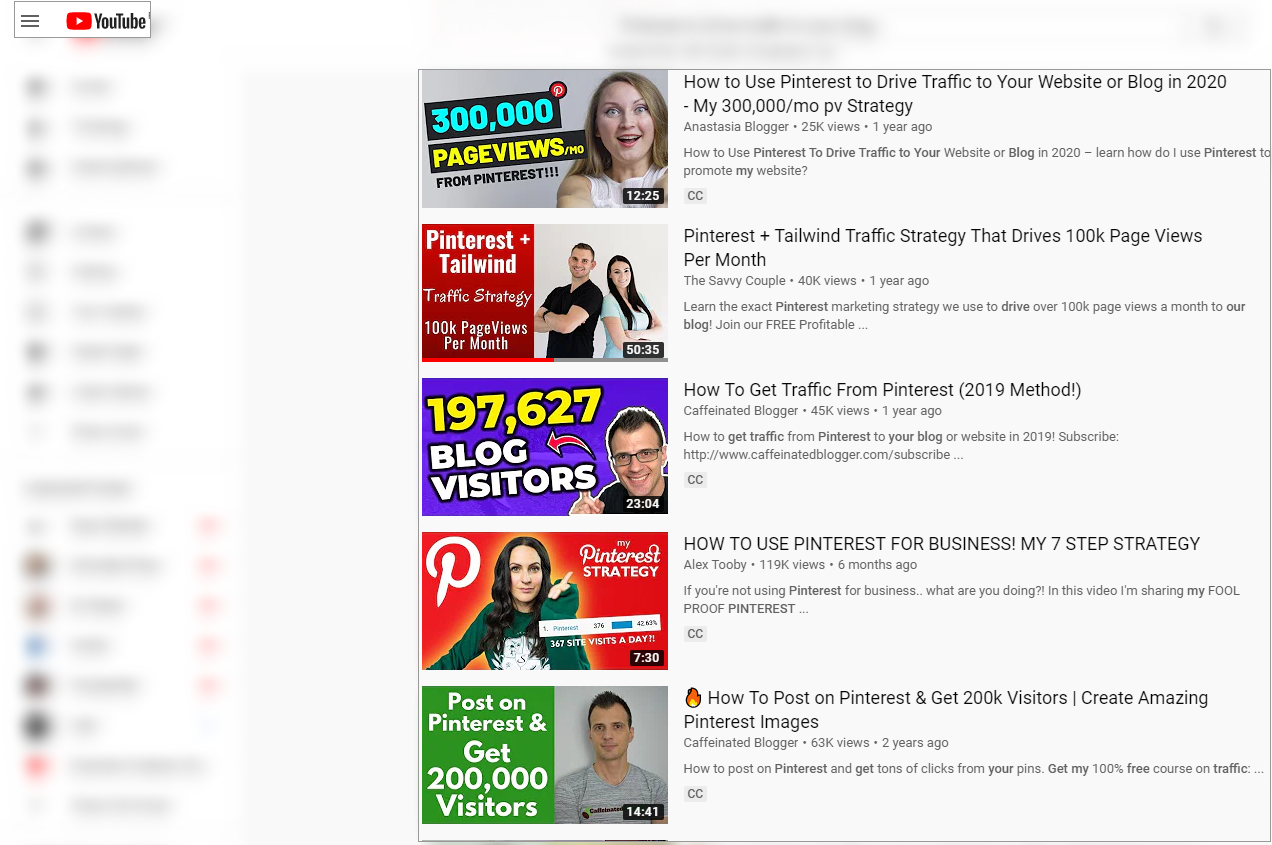 Furthermore, you can find lots of videos on YouTube if you want to dig deeper into Pinterest. Just remember that your goal is to bring people to your blog. And it won't happen if you go to Pinterest and use clickbait to entice people to visit your blog.
What you need to figure out is how you can deliver some value upfront on Pinterest, and then, expect them to visit your blog for more value. Designing great pins and touching on the most relevant topics is a way to go.
All I can say is that if you haven't been using Pinterest to drive traffic to your blog, then it's time to get on with this.
3. Capitalize on the YouTube Platform
YouTube is the second most used search engine on the internet, and if you aren't cashing in on the YouTube platform, then you're leaving money on the table.
Let's cut to the chase: you want to drive traffic to your blog and YouTube could an important source of bringing people to the blog.
The point, however, is that what you'd do to convince people to check out your website or blog. Well, if you're wondering that there has to be some way of directing people to visit your blog or website.
Actually, there are some ways that YouTubers are using to drive viewers to their blogs or websites, or landing pages.
Here are a few things you should do on YouTube to bring people to your blog:
Add Your Blog Link to the Channel's Links
Have you seen a bunch of social media and website links on YouTube channels? That's because every YouTube channel can add a few links through the About section of the YouTube channel.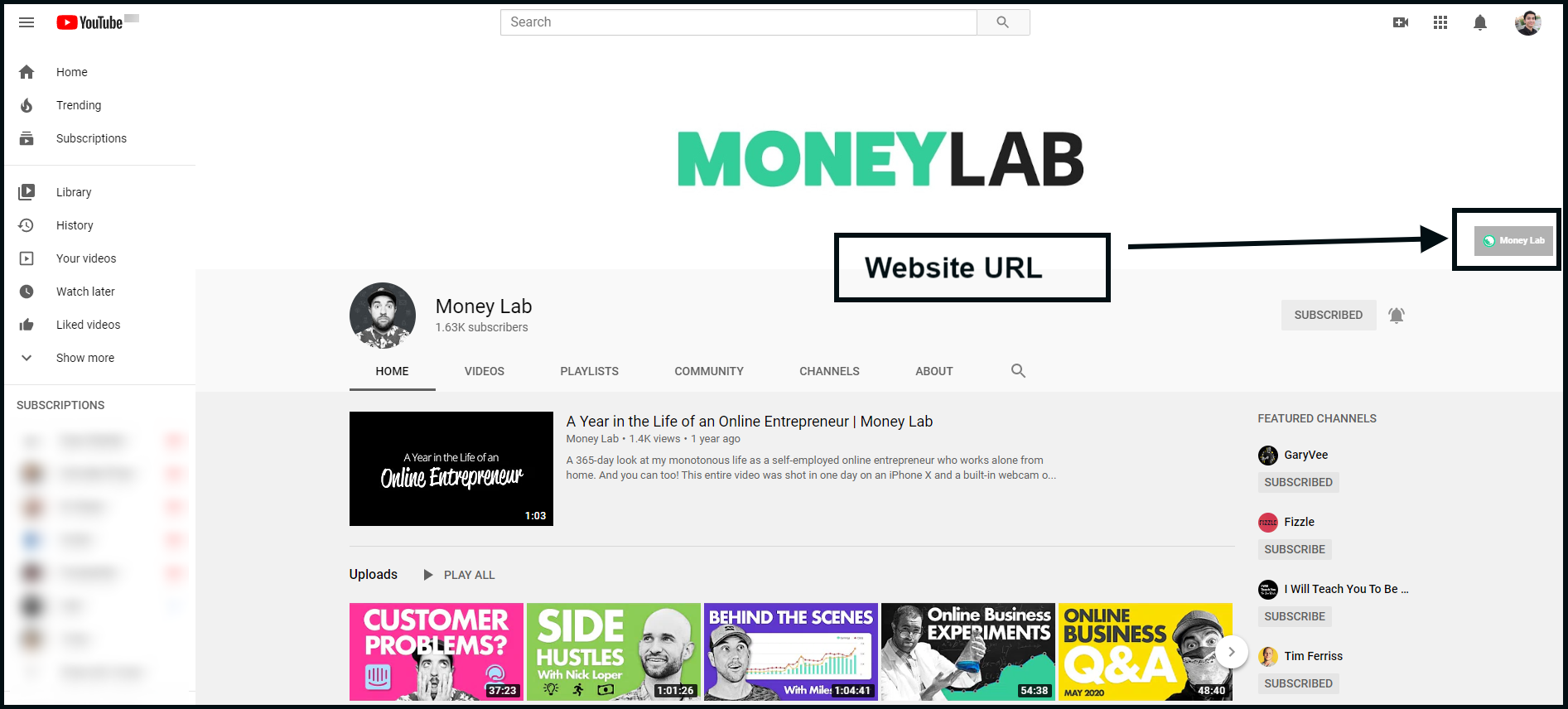 All you need to do is click on the "customize channel" from the About page of your YouTube channel, and then, edit the links section right away.
When you have a blog or website link on the channel's homepage, it allows your subscribers and viewers to click-through and land on your blog. This way, you end up driving some visitors to your blog or website.
Put the Blog Link in the Video Description
Video descriptions are extremely important no matter what your goal on YouTube is. So don't procrastinate while writing a few lines that describe your video. You can make a quick summary video about the blog and ask people to click on the blog URL to dig in. Furthermore, when you're trying to drive blog traffic from YouTube, then blog URL becomes an essential element.
You'd find hundreds of thousands of YouTube channels that add their website or blog links to the video descriptions. Most of the YouTube channels have default links added to their YouTube channel, which means, they don't have to manually add social media and website links every time they upload a video.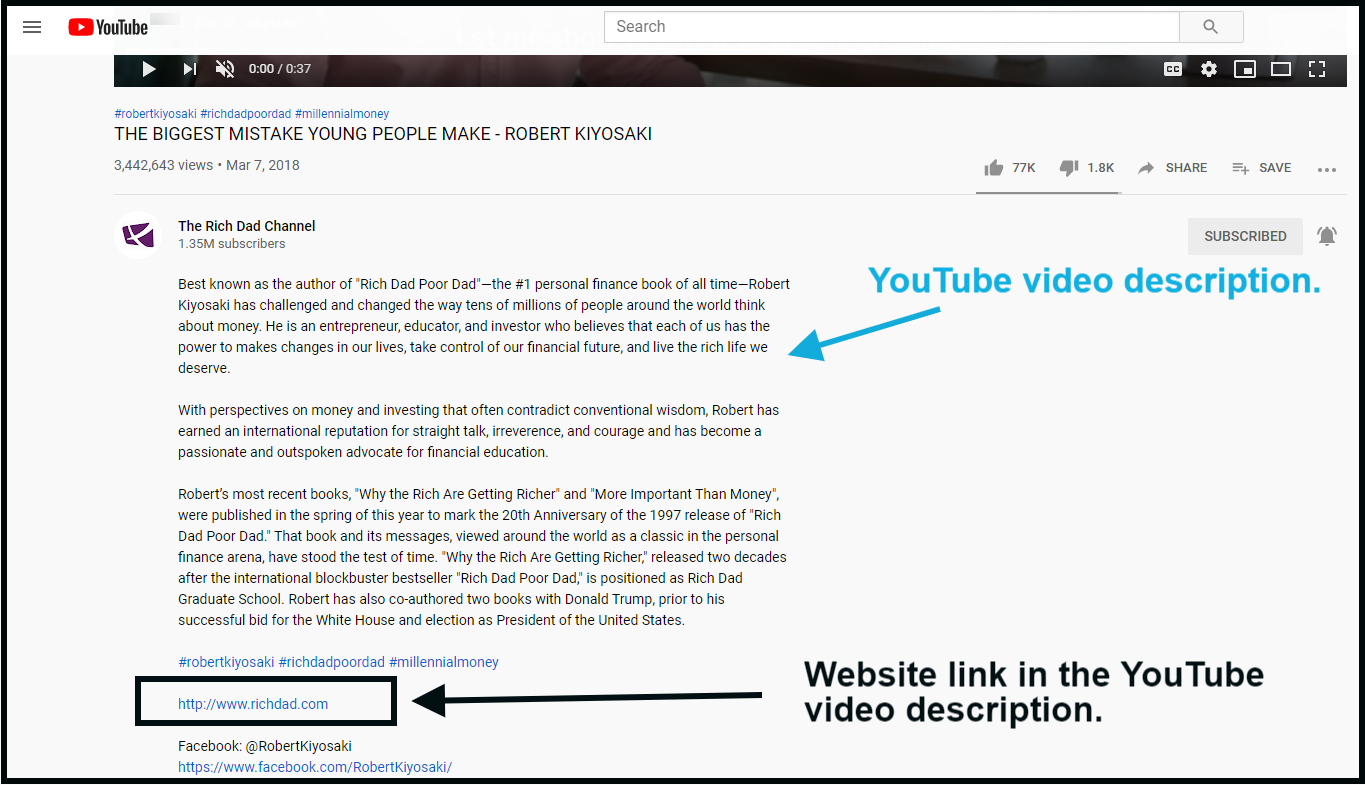 Make sure to add the blog URL to your video descriptions so that you could point the viewers in the video to check out the description for the blog URL.
Highlight the URL in the Video
Being a YouTube creator, I've noticed that if you spell out a website URL verbally in the video, 99% of the interested audience won't visit your website just because they don't see a clickable link.
The majority of them don't even figure out the spelling or end up trying the wrong URL address.
I even noticed that sometimes adding the URL to the description isn't enough.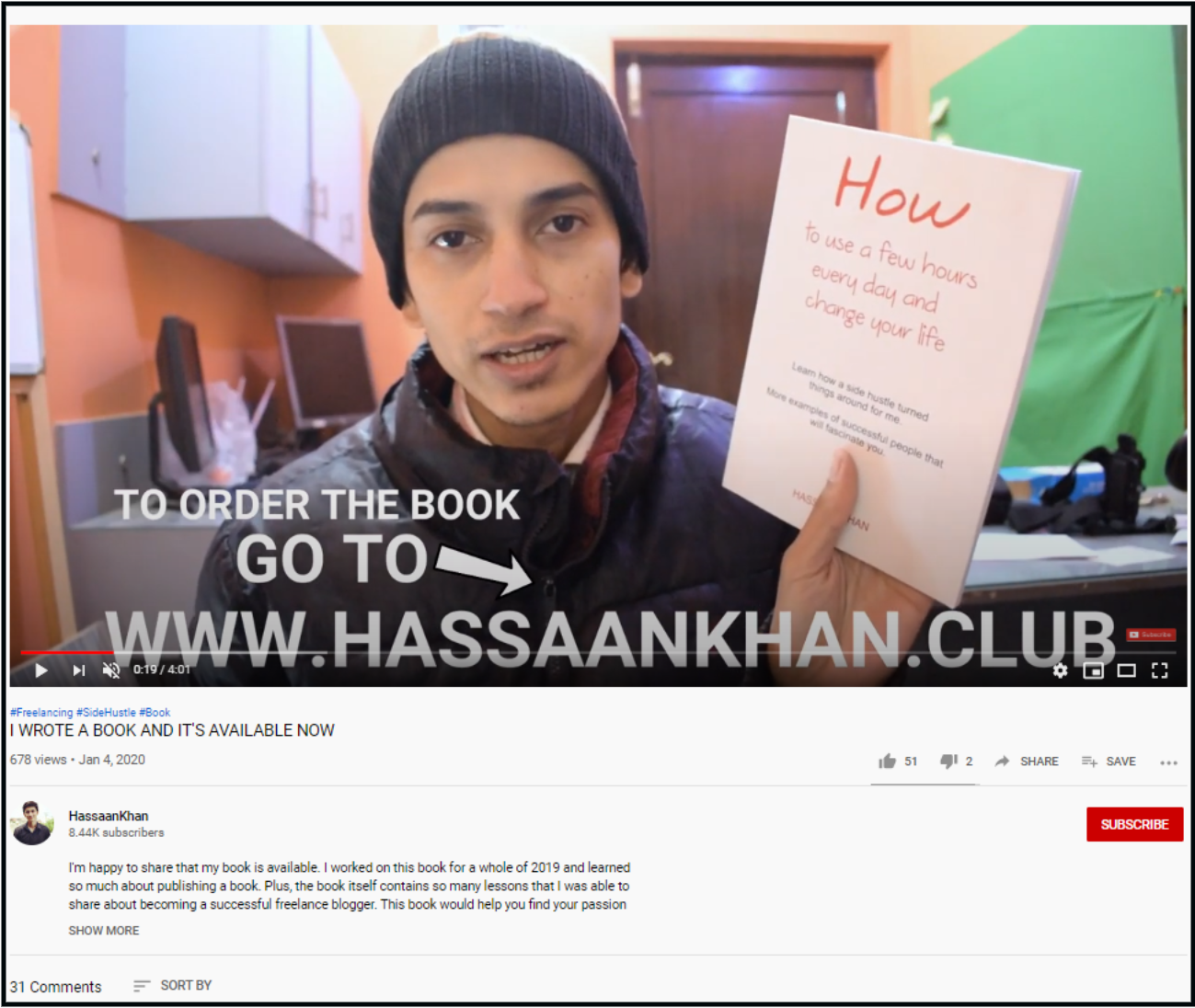 Therefore, what I do is that I always highlight the URL in the bold, clear text in the video so that it becomes easier for the viewers to find the blog or website.
And that's how I have been able to drive some visitors to my websites and blogs. You must elicit this strategy and replicate it to make it happen for you.
Upload Videos Consistently
You can't maximize the YouTube platform if you upload 7 videos in a year. All you have to do is develop a YouTube content creation strategy and get on with that. The more you put out content on YouTube, the better the outcome.
By now, you must have understood that it's not just me who uses YouTube to drive traffic to the blog or website. A lot of people are doing video content marketing and if you don't try this out, you would miss out on a lot of opportunities.

Income School interviewed a website owner who drives hundreds of thousands of website visitors from his YouTube channel. Watch this video to understand how powerful YouTube could be.
Point Viewers to the Blog Content
I've shared a handful of tips about getting traffic from YouTube, for instance, linking your site to the channel's header, adding the link in the description, and highlighting the URL address in the video.
What if I told you that these tips may not be enough? Don't be surprised because when you're trying to achieve something, you must double down on it. Right?
So keeping that in mind, you must create content in which you could point your viewers towards the blog post you wrote on the blog. It would require some brainstorming because you would have to figure out what topic you should choose for the video and what blog post you should point viewers to on the blog.
Once you add these tactics to your content marketing strategy, things would only get better from here.
4. Schedule Your Social Media Posts
Content marketing doesn't complete if you don't add social media to the mix. Since social media is a vital source for driving traffic to the blog or website, most of the users who want to capitalize on social media for traffic do it the wrong way. What they think is that sharing their blog post links is going to bring people to their blog.
The reality is that social media is one heck of a noisy place. As you share something with your followers, it gets shelved under the next hundred posts right away. You get a very small bracket of time to make an impact only if you choose the right time to post.
Therefore, scheduling social media posts becomes inevitable. You should be cautious about being repetitive with sharing content on social media channels. You never know what gets annoying for the followers and they unfollow you right away.
There are three things you should do to make the most of your content sharing on social media:
I.          Use a Scheduling Tool
ContentStudio is my go-to social media scheduling tool. Not only does it make social media scheduling easier, but it also offers an approval system and workplaces features. Furthermore, you can post or schedule content on Medium and Tumblr as well through its content planner.
I've tested a handful of social media management tools before ContentStudio, but ever since I tried ContentStudio, I'm in love with this social media management tool.
ContentStudio is powerful content curation and social media automation tool that helps marketers, agencies, and businesses all around the world. Now you can discover trending content in your industry, plan,  schedule, and analyze social posts and manage your social inbox from just one platform.

II.        Figure Out the Optimum Time
Go through your social media analytics or simply keep track of all the social media posts for two weeks. You should analyze what timing suits you the best. See if your social media posts get more likes, comments, and shares in the morning or the afternoon, or at night.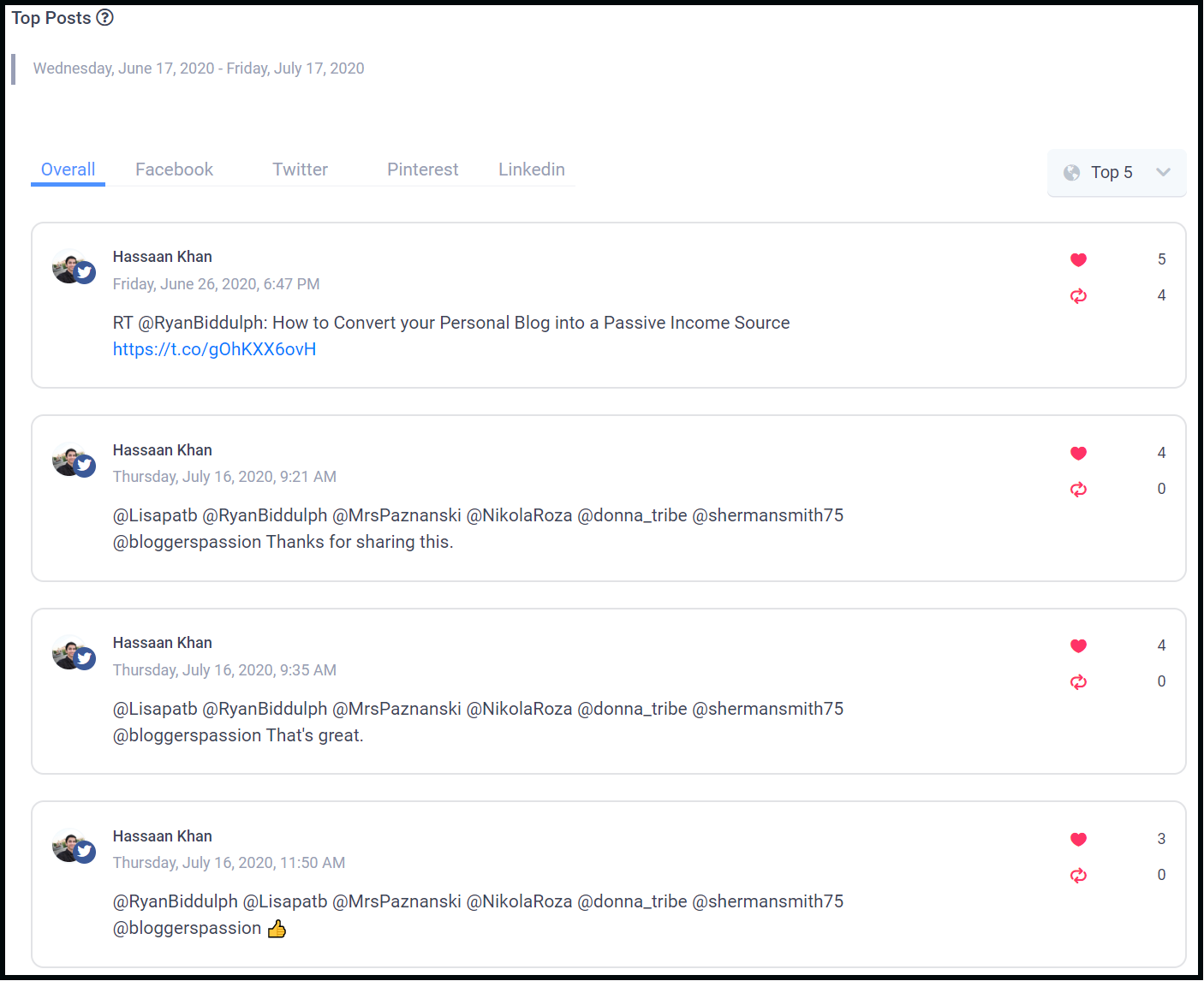 Once you do a little testing with a few dozen social media posts for two weeks, you'll be able to figure out the optimum time to post on social media.
III.      Don't Always Share Blog Posts
It may startle you that I'm suggesting not to share blog posts every time you schedule or post on social media. What I mean is that every once in a while, try to ask a question or tag an influencer friend on board and ask followers to send their questions over or share someone else's content.
All these things get people's attention. If you keep on sharing your blog posts, it starts to look mundane for your followers, and hence, they stop paying attention to it. On the contrary, if you keep on trying a variety of things as your social media posts, it'd keep followers on their toes.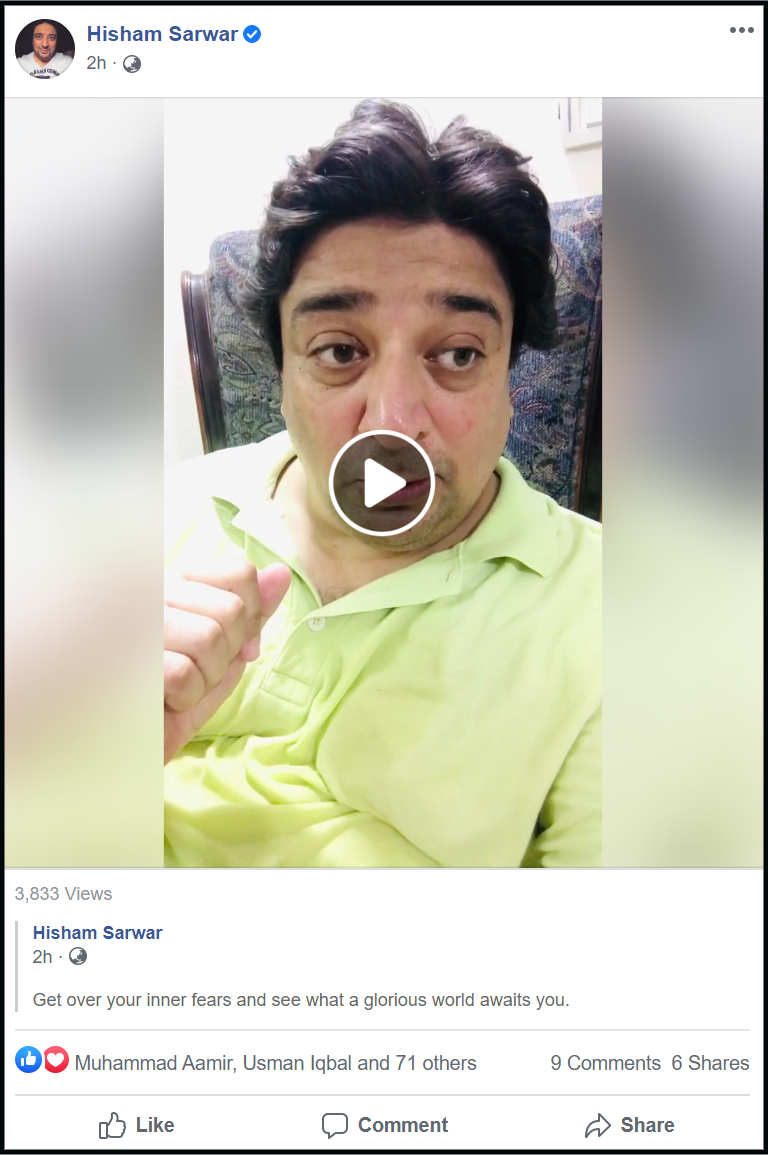 It reminded me of a successful freelancer-turned-entrepreneur from Pakistan. His name is Hisham Sarwar. The man is one of the most influential guys in the digital content marketing space in Pakistan. He is quite active on Facebook and keeps on engaging followers through live videos, status, pictures, Q&As, and discussions.
So the point is that social media success doesn't lie in sharing your content, but instead if you start being authentic, helpful, and generous on any of the social media platforms, it'd surely turn things around for you. As far as driving blog traffic from social media is concerned, when you "give" to your community, it pays off in different shapes and forms, and loads of blog traffic is one of them.
5. Give a Paid Product for Free
I learned this trick from an internet marketer on Quora. I have used opt-in bribes in the past, and they work quite well. What happens with opt-in bribes is that you offer something valuable and people sign-up to your email list to get access to your downloadable item. That's how you increase your email list subscribers.
I learned this email list-building technique from Peter Nyiri on Quora. What happened was that I asked an affiliate marketing question on Quora, and his answer amazed me.
This is what I asked:

Peter wrote an in-depth answer to this question, and it was a jaw-dropping moment for me.
Here's the sneak peek of that answer: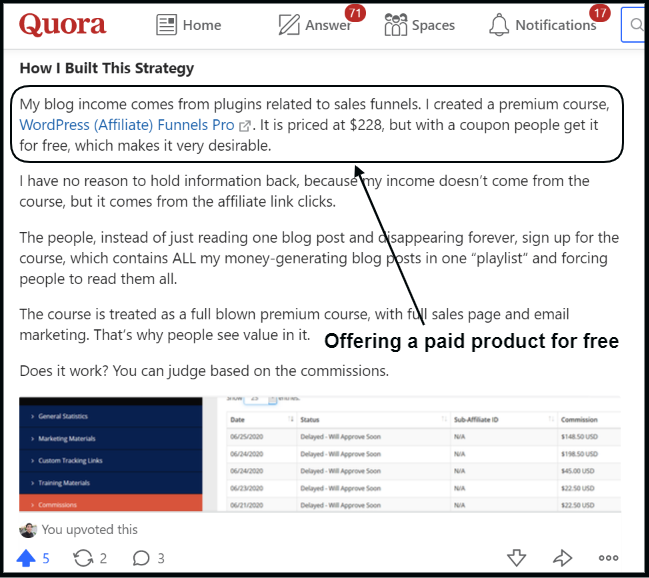 The fascinating thing in his strategy was that he created a course, which was supposed to be a paid product, but he offered it for free so that people could get attracted to it.
He didn't plan on earning from the course, but instead, he inserted his affiliate links into the course content, which would eventually help him earn some commissions over time.
So what we can learn from this content marketing hack is that content creation doesn't just mean writing blog posts or making videos, but courses could be a way of marketing your products or services.
Plus, offering a paid course for free creates a psychological effect on the minds of the audiences. Thus, it brings a lot of attention to the offer.
6. Answer Relevant Questions on Quora
Most of you aren't paying close attention to Quora and chasing Facebook, Twitter, and Instagram. According to Foundationinc, Quora has over 300 million monthly active users, which puts Quora in the top-tier social media networks.
If you haven't had a chance to explore this platform, then let me explain it a little bit. It's a questioning and answering platform where people can either ask questions or answer others' questions, and eventually, grow their following.
I'm trying to put things in perspective as I've told you before that blog posts and videos aren't the only content types to focus on. Therefore, Q&A could be an important type of content to pay close attention to.
Take a look at the screenshot of a Quora answer: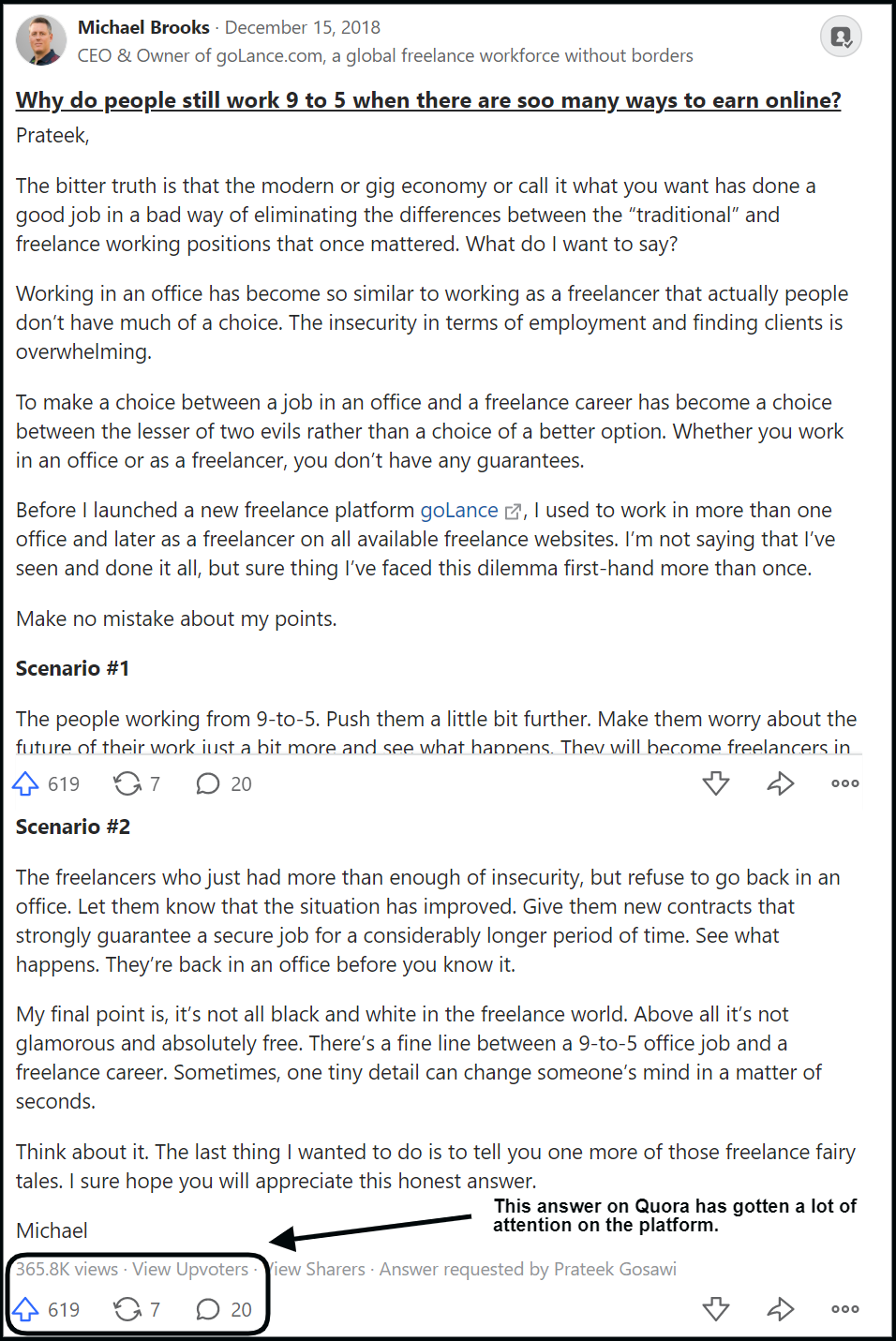 So here are a few tips on getting traction on Quora:
  Write an appropriate bio and add essential links to your Quora profile
  Try to stick to your industry when it comes to following topics and people
  Answer questions with loyalty, authenticity, and honesty
  Don't focus on pasting your blog post links in Quora answers
  Maximize every aspect of the platform such as sharing, upvoting, commenting, and following
The better you solve others' problems on Quora, the more people would get attracted to you
It's not just Quora, but it applies to every social media platform: if you push so hard on sharing your links and driving traffic to your website or blog, it would hurt your brand. In general, this kind of behavior is a bad brand strategy and should be avoided.
Not only could the social platform terminate your account, but the followers could also get annoyed with this behavior.
Simply put, don't force people to leave the platform and visit your blog or website, but instead, try to deliver value right away without asking them to visit your site. As a result, people would like to know more about you, and thus, end up checking out your website or blog.
7. Start a Podcast
The Podcast is on-demand audio content that is distributed through the RSS feed over the internet. Content marketing uses text content, videos, images, and audio to attract, engage, and convert the audience. Therefore, podcasting is an essential pillar of content marketing strategy.
According to an estimate, more than 750,000 podcasts and 30 million+ episodes were live in 2019. Furthermore, Apple alone featured 550,000 podcasts and 18.5 million episodes in 2018.
According to an article published this year, which cited a report of Fast Company, Apple Podcasts hit 50 billion all-time podcast episode downloads and streams. And it was a huge increase from 13 billion in 2017.
When it comes to driving traffic to your blog, podcasting can't be written off.
The reason is that the podcast doesn't only contain the audio episode — a text-based podcast description goes out with the audio episode. Not only does it allow the podcaster to describe the podcast episode, but it also gives a chance to drive them to other avenues such as a website or social media channels.
Here are some popular podcasting platforms to look out for:
If you ever listened to a podcast, the podcaster often mentions the show notes — that's the podcast description I was talking about.
I haven't tested all of these platforms, but Stitcher is the one I'm using for the past four years for listening to my favorite podcasts. Furthermore, I started my podcast in my native language Urdu on Anchor.FM, which was an experiment. The coolest part of using the Anchor.FM platform was that it distributes your podcast to various podcasting platforms within a few clicks.
The point is that a podcast could be a lightning rod for those who want to put their words out there but they don't like to write articles or don't have enough time to record videos. All you need to do is find 15 minutes from your busy schedule and record an audio file on your smartphone, and upload it to Anchor. Voila!
Which One of these Content Marketing Hacks Would You Apply?
You made it to the end.
That's great.
I just want to reiterate that these content marketing strategies could help you drive extra traffic to your blog or website, but you got to be patient and consistent.
The reason I did my research and brought examples for you is that I know these things work.
They've worked for me as well as for hundreds of thousands of bloggers and content marketers out there.
So tell me this: which one of these content marketing hacks you liked the most?
Let's come together in the comments section and help each other out.
Hassaan Khan
Hassaan Khan is a freelance writer for SAAS companies, e-commerce stores, and niche websites. He has contributed to SEMrush, ThriveGlobal, BloggingCage, AllBloggingTips, and several other publications. He builds niche websites, publishes e-books, and helps website investors with his done-for-you niche site-building service.