Are you thinking you don't get engagement on your social media because you're not posting at the right times? Or, have you only just set up a new social channel for your business and are wondering how often you should post on social media? Before we dig in to give in-depth answers to your musings, here's something you need to understand: there are no magic times to post on social media. Sure, you can refer to the prevailing research on how often should you post on social media.  
But, in reality, that's not how the best social media channels work. Behind the scenes, there's a lot of trial and error. Plus, there are some fundamental principles to stick with such as being consistent in the updates you make on social. Don't worry, we'll get to these principles in just a bit.  
Along the way, we'll also cover how often you should post on each of the four big social channels: Twitter, LinkedIn, Instagram, and Facebook. You'll learn the best times to post on each and how many times to update each social channel as well. But, our emphasis will be on testing (we'll show you how) to find out how often you should post on social media in 2021.  
Since there's a lot of ground to cover, let's get to it:
How to use this guide to understand how often you should post on social media in 2021?
When we say, 'how often' I think of two parts to answer this:
How many times &

What times to post
That's exactly how you should view this guide. It will talk about how many posts + when to make those posts and how often you should post on social media.
However, instead of curating the available research on this topic, we'll tell you exactly what works on social media. And, it's not what you think. So what is it? In short, it's a triple-decker to achieving your social media objectives including:
1.      Being consistent on social
2.      Actively engaging with your audience
3.      Offering as much value as you can so your audience waits for your posts
What's more, instead of a formulaic approach, we favour diving into your social media analytics to understand when your audience is most engaged and, subsequently, when you should post on each channel.
So, the right way to use this guide is to understand and digest each of the principles that we'll layout for you, test out some posting timings and frequency, and find out your ideal answer to how often you should post on social media.
Use the posting times and frequency we share down below only as your starting point. Go on to develop a social media posting plan from there.  
I also recommend you bookmark this piece so you can refer to it time and again to revise what matters the most on growing an engaged social media channel. Try following these posting times and measure your social media KPIs after that, I'm sure you'll see a rising graph!
How often should you post on social media in 2021: The best times to post
The correct answer to this depends on a couple of factors such as:
1.     

The time zone you are in
Chances are you've read 1 pm is the best time to post on so and so social channel. So, you've decided you're going to schedule your update at that time. But, have you stopped to ask: which time zone is it?  
Even if you already have the answer to this, have you paused to ask yourself: which time zone is my audience in?
Asking these two questions can show you how tough it is to point out a single time and call it the magic time to post on social media.
2.     

The industry you are in
Again, odds are a certain posting time works well for someone you know, but it isn't delivering the same results for you. Wondering why? Because not only are your audiences different but you're in different industries as well.
Put simply, the ideal posting time boils down to the industry you are in. Dine-in restaurants are likely to get engaged during the evening hours. But as soon as you switch the industry, this changes. For instance, someone in the carpentry industry is likely to get engagement in the mornings.
3.     

When your audience is active
We've already touched base with this. However, it's an important factor that determines your posting time and frequency on social media, so it deserves a separate mention.
In a nutshell: it's only when your audience is active that your social media updates will get any engagement.
Are you targeting recruiters or are you posting for busy mums? In either case, the optimal posting time differs. After all, recruiters are most likely to be active in the mornings during their work hours. Mothers, on the other hand, might check social media with their evening tea.
Thus, two important questions to ask yourself are:
 

Who is my target audience &

 

When are they most likely to be active?
4.     

How consistent you are in posting on social media
Now here comes the bitter sip: if you're not consistent in your posts on social media, the odds of getting high engagement are low. Why? Because consistency in your presence on social media sets your followers' expectations. Put another way, your audience becomes familiar with your updates, so they engage with them.
What's more, the consistency of social media improves your reach. Again, why? See, when you post and engage with your audience regularly, more people will see your posts. This improves your reach or the number of people who see your posts.
Hard to believe? Here's an example: SEMrush on Twitter sees more engagement on their tweets than other social media accounts that don't engage with their audience consistently.  
The reason is simple: the social media managers at SEMrush take the time to:
 

Host a Twitter chat (#SEMrushChat on Wednesday at 11 am ET) to engage with their followers

Go on to interact with their most active followers (apart from the chat) regularly

Share their engaged followers' content too
Note that when we talk about consistency on social media, we're referring to both frequently posting on social as well as engaging with your audience with or without social media management tools, although you can increase engagement by 50% through a tool.
How often should you post on social media: the ideal social media posting frequency
Again, it's easy to assume that the best answer to this is posting as per proven numbers: 1-3 posts per week. And, again, such researched estimates are good jumping-off points.
The real answer comes down to the following:
1.     

Find the right posting balance
If you post too often, you're at risk of boring your audience. After all, they don't want to see posts from you round the clock. The opposite, however, is equally damaging as it means your audience is likely to forget about you if they don't hear enough from you.
Thus, the correct way to go about posting is finding the right balance between too often and too less for each social channel.
Take a page from Career Contessa's Instagram page that posts twice daily. This way their audience knows when to hear from them and they remain in their followers' feeds daily as well.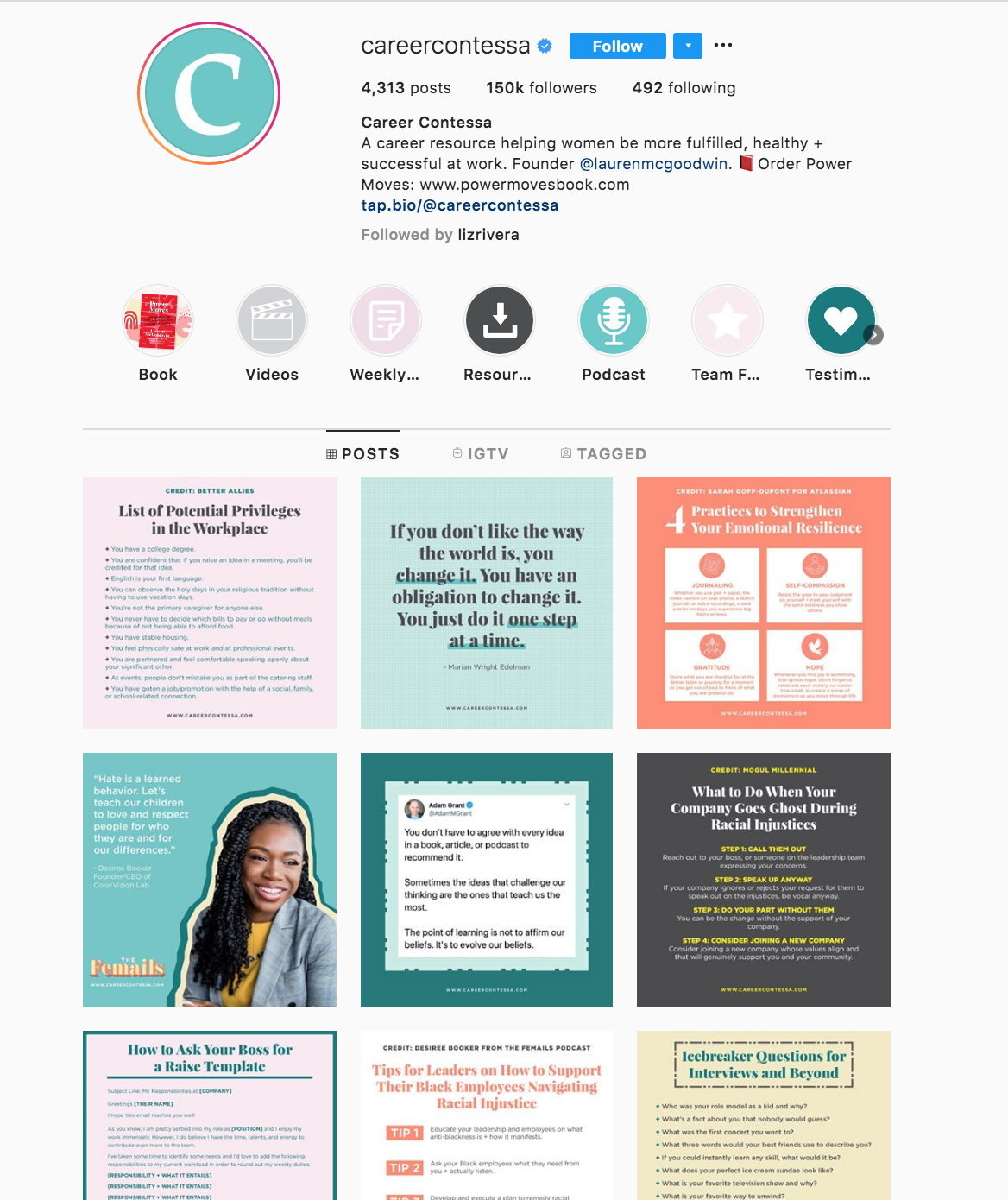 2.     

Aim for consistency more than anything else
You'll only figure out the best balance if you're consistent in showing up on social media. In fact, this consistency is all that matters as Mark Schaefer shares,
"Starting and being consistent and not giving up is more important than being brilliant."
If you post on a Monday only to disappear by Thursday, your audience will forget about you. On the flip side, consistent posting helps you set your followers' expectations.
If you're starting out, showing up daily weighs a lot more than posting by a fixed schedule. It's only after some trial and error that you can map out this schedule, so focus on showing up regularly before you determine the best times to post on different social channels.
3.     

Offer as much value as you can
This will serve as a magnet to attract new and old followers alike. In fact, your followers won't care about what time you're posting. Instead, they'll seek out your content themselves, which means social algorithms are more likely to show them your updates.
Wondering how to offer value? Here are some quick and effective tips:
Post industry tips and mind-blowing stats

Make quick video tutorials for educating your audience

Share relevant curated content with thoughtful captions
Now that the essentials are out of the way, let's talk about how often should you post on specific social channels.
How often should you post on Twitter in 2021?
Twitter is a great platform to share business updates and helpful tips. Pair your text-based content with GIFs, memes, and videos to grow your Twitter channel quickly.
Plus, read on to understand posting frequency on Twitter:
What's the best time to tweet?
Research suggests the best time to post on Twitter is 9 am and the best days to post on Twitter are on Wednesdays and Fridays.
On the flip side, you'll get the lowest engagement from 10 pm to 4 am daily. At this time, your audience will obviously be sleeping and unavailable for engagement. But the safest posting times on Twitter lie between 8 am to 4 pm from Monday through Friday.
Let's take a step back and analyze this. For starters, it's helpful to stick with these timings. If you look closely though, peak Twitter times are during the day (8 pm to 4 pm) and the worst times to tweet are during the night hours (10 pm to 4 am) since your audience is most likely to be active and awake during these timings, respectively.
However, that's not to say you can't post during these times (10 pm to 4 am). Due to the time zone differences, some of you might find yourselves posting during your evenings (or even post-midnight). This way your tweet will show up to your followers' in their morning hours considering they're in another time zone.
How many tweets should you tweet daily?
There's a general agreement that the ideal tweeting frequency ranges between 3 to 30 tweets daily.
Note that Twitter is cracking down on bots posting every other minute. So, it helps to pause, understand when your audience is active, and tweet according. Once you learn this, you can tell if you need to tweet thrice or thirty times (which is a bit too much, honestly).
In short, here's what helps:  
Don't tweet when your audience is likely to be participating in a Twitter chat. This lowers your engagement even if your followers (or a sizeable portion of them) are active

About 3-7 tweets are ideal if you're a business. The idea is to stay top of mind, which is why 3-7 tweets are sufficient
How often should you post on LinkedIn in 2021?
LinkedIn is a professional network for salespeople, business folks, and recruiters. So, you'll find users active during work hours. Even so, lots of users tend to actively post on LinkedIn even over the weekend.
So what should you do? Read on to find out what research says:
What's the best time to post on LinkedIn?
Studies confirm the best times to post on the Linkedin range between 8 am to 2 pm and the best days to post on Linkedin are from Tuesday to Thursday. The same source on "when to post on Linkedin " also says it doesn't help if you post outside of business hours or on weekends.  
Let's have a closer look at these findings. It makes sense to post during work hours on workdays since LinkedIn's demographics comprises of working people, so the best time to catch them is during work hours.
However, once you start using LinkedIn (or if you already are), you'll note that businesses (particularly, one-person shows) are active on weekends too. But it helps to take a breather on weekends, really. And no one will blame you if you're not active on weekends.
How many times should you post on LinkedIn?
If you're wondering how often should I post on LinkedIn. well. Ideally, once daily. But no more than twice in a given day. Any more and you know that you're not observing the right balance to social media posting.  
How often should you post on Instagram in 2021?
Instagram is a visual platform. So, unless you've high-quality images, you can't expect success on the network unless you use some Instagram growth hacks. It's best you stay away from using stock photos. Instead, take some pictures yourself or hire a photographer to capture images featuring your product.  
Sharing behind the scenes (BTS) content also helps build trust with your audience, so it's worth giving a shot. As for the posting times and how often to post on Instagram, get them below:
What's the best time to post on Instagram?
Some say the best times to post on Instagram is between 2 pm to 3 pm with Thursday being the best day for posting on Instagram. Others say, the best day to post on Instagram is Wednesday between 11 am to 3 pm. There's also third research on when to post on Instagram that says 9 am to 11 am is the best slot for posting on IG.  
Best time to post on Instagram on Friday: 1 pm to 3 pm
Best time to post on Instagram on Saturday: 7 pm to 8 pm
Best time to post on Instagram on Sunday: 7 am to 8 am and 4 pm
Best time to post on Instagram on Monday: 10 am to 10 pm
Best time to post on Instagram on Tuesday: 9 am to 6 pm
Best time to post on Instagram on Wednesday:

11 am to 3 pm

Best time to post on Instagram on Thursday: 2 pm to 3 pm
Of these studies, some specify the time zone, others don't. You can always start by posting on these times assuming they're in EST and tweak your plan moving forward.
How many times should you post on Instagram?
How often should you post on Instagram ranges from one post to two maximum. Ideally from one post per day is best. Publish no more than two though. This is pretty helpful considering it helps you strike the right balance. One post per day when your audience is active can help you stay on their radar without being intrusive.
How often should you post on Facebook in 2021?
Recent changes in Facebook's algorithm have made organic engagement challenging. But there's nothing that you can don't by prioritizing relationship building with your audience on social media.
What is the best time to post on Facebook?
Studies outline Wednesday, Thursday, and Friday as the best days to post on Facebook.
So when is the best time to post on Facebook?
The best times to post on Facebook, on the other hand, are 9 am and 8 pm when your audience is either Facebooking as they start their day and around dinnertime.
To start off, start posting on Facebook in the morning and around dinner. The time zone, of course, depends on where your audience is.
How many times should you post on Facebook?
Most studies agree one post a day is best for Facebook. Maximum? Two per day. As for a minimum, three posts weekly on Facebook should do. This is a helpful estimate as the posting frequency helps you stay consistent as well as on top of your audience's mind.
The estimate is also great for those who run a Facebook group. If you aren't running a FB community yet, but are part of many, it's best you allot some time to engaging with group members daily.
How to know when your audience is most active on social?
 How to get the most from your social media posts?
While posting on social consistently is one part of the picture, taking out the time to actively engage with your followers is another.  
The following 3-step plan will help you get the most of your posts on social:
1.     

Know your objective
This way you have a yardstick for measuring performance and understanding how well you're doing. Is your goal to increase brand awareness on social or drive sales? Do you want to build a community and foster customer loyalty? Getting the most from your social media posts comes down to knowing your objective adequately.
2.     

Commit to engaging regularly
Ideally, take out 30-40 minutes to engage (read: like, comment and share your follower's content) daily. What's more, 80% of customers expect businesses to respond to them on social within a day. So, it helps to respond to any brand mentions, queries, or messages that you may have.
3.     

Tailor your content according to the platform
If you're planning to create and post a single post on all your social profiles, stop right there. Every platform has its content requirements. For instance, short and witty captions work best for Twitter, but Instagram's user base demands lengthy captions (think: storytelling). Analyse each platform's requirement and then add them to a content planner.
Hence, it's best to tweak your content according to each platform's requirements. You can keep the message the same, but deliver it in a different format.
A few more tips to help you as you create social content are:
   

Use hashtags thoughtfully.
A hashtag or two best suits a tweet: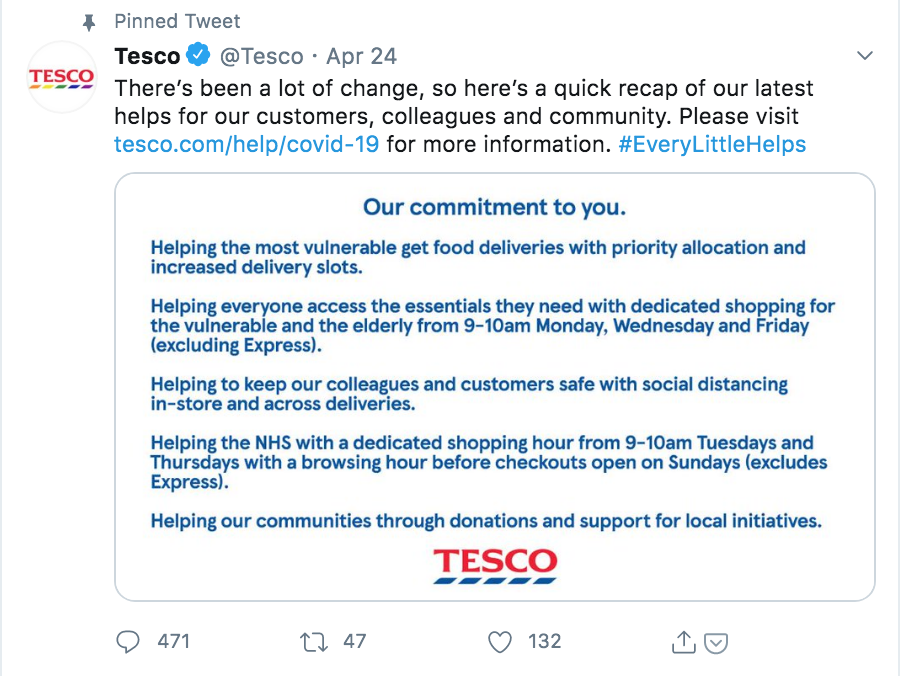 But you can add a lot more hashtags on Instagram: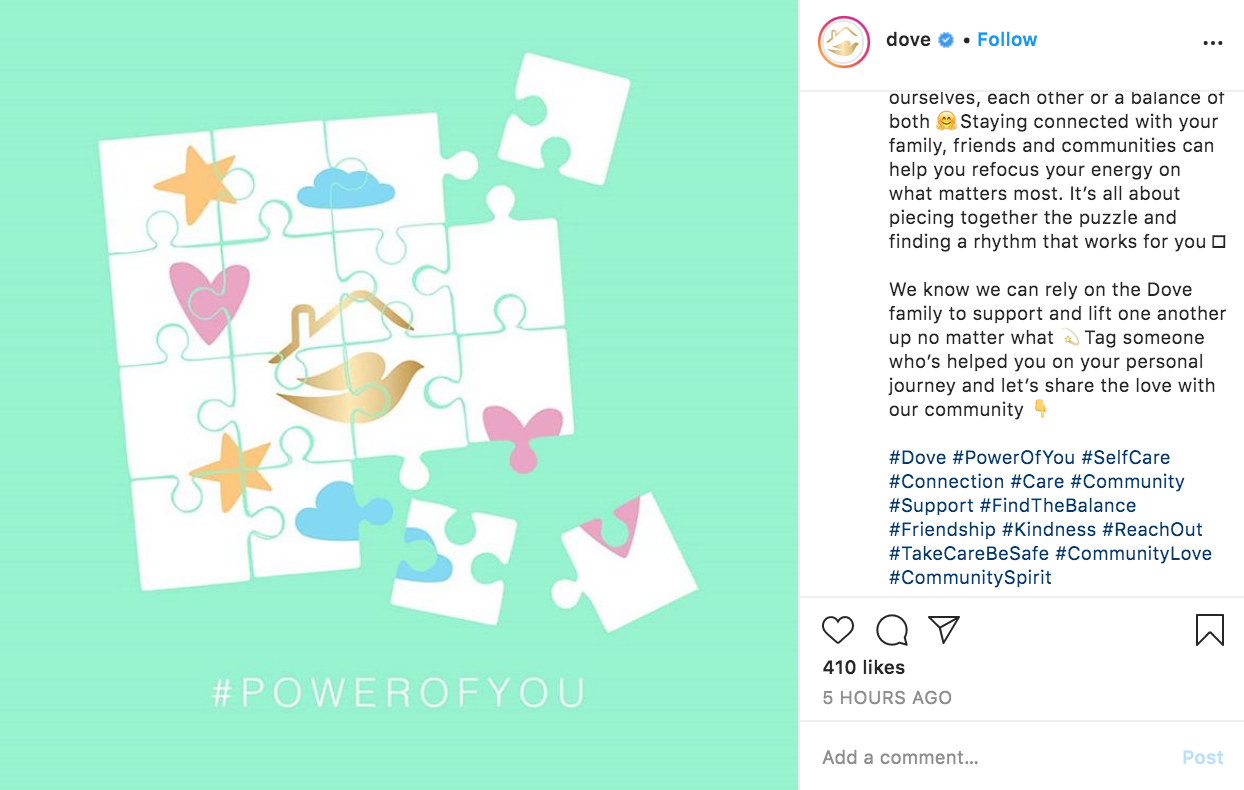 Ask questions in your captions to get your audience to engage with you
Like Todoist does on LinkedIn: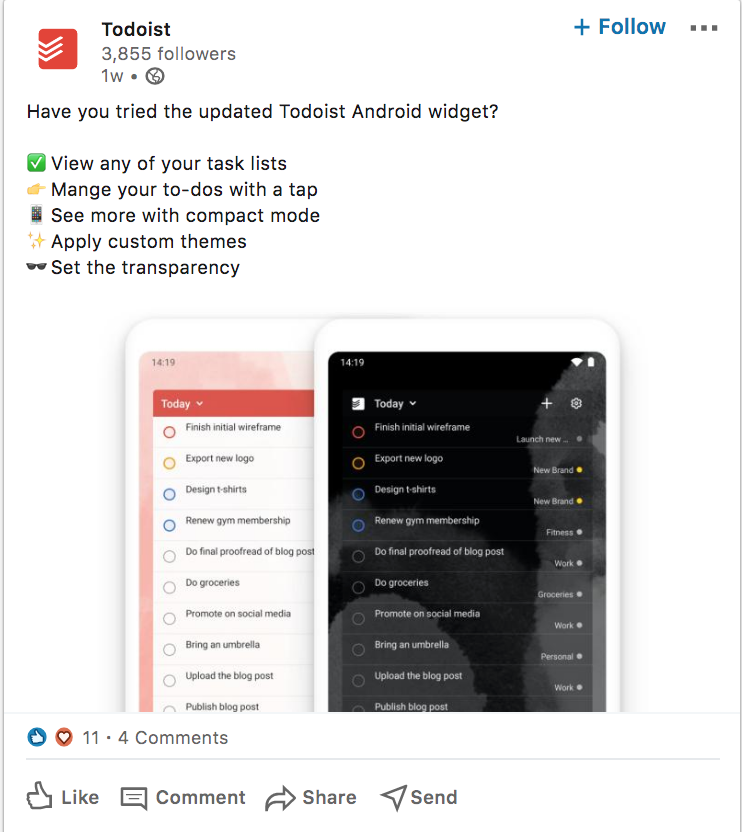 Add emojis and lines break to your captions to make it easy to read
Grammarly does this pretty well. Have a look: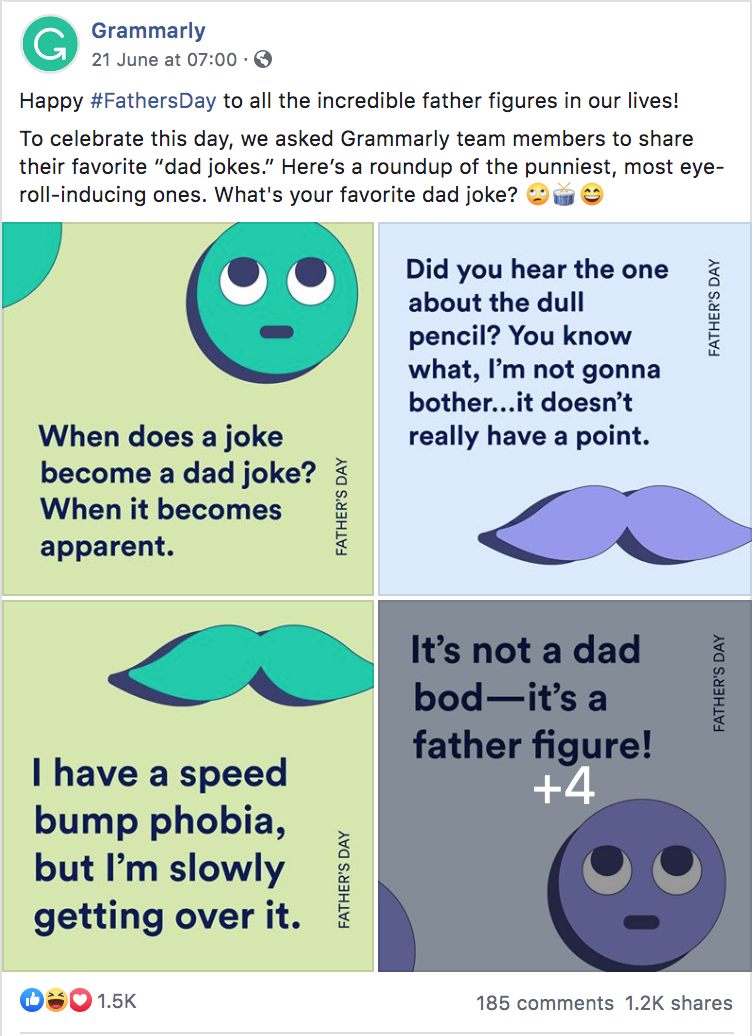 Closing notes
Summing up, favour quality over quantity when deciding how often to post on social media. Make sure you're consistent in actively showing up on social and providing value. One thing to keep in mind as we wrap the guide though: this prevailing pandemic has disrupted most of the plans.
It has changed the answer to how often should you post on social media as well. The quarantine has increased social media consumption, so it's okay if you post thrice instead of twice in a day to better connect with your audience.
That said, it's important to keep in mind that you need to be thoughtful about what you post during this crisis.
Use content discovery to stay updated with the latest and trendy content worldwide. Sometimes, it's best to be quiet. Other times, it's important you pause your scheduled posts and tweak your social media strategy to better deal with the situation.  
Have any more questions? Comment below and we'll get back to you. 
Masooma Memon
Masooma Memon is a pizza-loving freelance writer by day and a novel nerd by night. She crafts research-backed blog posts and articles for small businesses and app companies who aim to employ quality content to educate and engage with their audience.